Montreal Canadiens: Victor Mete's Next Contract Could Look Just Like Rasmus Andersson's
The Montreal Canadiens will need to re-sign Victor Mete before next season. If they don't want to have a lengthy contract battle, they should be offering him what Rasmus Andersson just signed.
The Montreal Canadiens will have a plethora of contracts to deal with at the end of the 2020-21 season. Their entire top line of Brendan Gallagher, Phillip Danault and Tomas Tatar are pending unrestricted free agents at that time. Jeff Petry and Joel Armia are as well. Artturi Lehkonen is a restricted free agent along with youngsters Cale Fleury, Ryan Poehling and Jesperi Kotkaniemi.
That is over a year from now, but it is worth keeping an eye on. It makes this summers free agent dealing look like a cake walk for general manager Marc Bergevin (assuming he is still the general manager in the summer).
The only unrestricted free agents that Bergevin (or his replacement) will have to deal with are depth pieces. Dale Weise, Nate Thompson and Ilya Kovalchuk are the only forwards who could walk away this summer. They could be joined by Christian Folin, Marco Scandella and Keith Kinkaid. None of these players are going to be tough to negotiate with and a handful of them could be traded by the deadline anyway.
There are a couple of restricted free agents that need new contracts, led by Max Domi. That could be a tricky deal to hammer out, but Victor Mete is another interesting case.
Mete was drafted in the fourth round of the 2016 NHL Draft. He played extremely well for the London Knights the following season, scoring 44 points in 50 games and adding seven more in 14 playoff games.
Mete showed up to the Habs training camp in 2017 as a longshot to come anywhere near the NHL roster. However, he played well enough in preseason to earn a spot on the opening night lineup. The Toronto, Ontario native played 49 games that season and scored seven points – all assists. Mete followed that up with 13 assists the next season in 71 games played. He was a regular on the top pairing next to Shea Weber as a 20 year old.
This season, still just 21, Mete finally found the back of the opposing goal. He has done that four times in fact and has nine points in 34 games.He missed some time with injury and took a little time to get back to 100% after returning to the lineup, but he is playing well once again.
When Mete is playing well, he is taking on big minutes, carrying the puck up ice with regularity using terrific speed and making it difficult for the opposition to defend as he joins the rush. Watching him play, you would assume he has far more impressive offensive totals in his NHL career than four goals and 29 points in 154 games.
Sometimes when you are negotiating a contract, especially with a young player, it is not all about production in the past, but what you can expect from them in the future. Mete has been fourth among Habs defenders in even strength ice time the past two seasons and has been given little ice time on either special teams unit.
HIs offensive production doesn't look fantastic, but his skating, smarts, positioning and experience for a 21 year old show he could be on the verge of an offensive breakthrough in the very near future – especially if he is given a little bit of power play time at some point.
A defenseman who fits a similar description would be Rasmus Andersson of the Calgary Flames. Last season, Andersson was fifth among Flames defenders in ice time and had the third most on the power play. This year he is fourth at even strength and second on the power play. The 23 year old was a second round pick in 2015 and has five goals and 31 points in 135 career NHL games.
Andersson just signed a six year contract extension with an annual cap hit of $4.55 million. It may seem a bit steep based on his production, but the Flames are rolling the dice on a young defenseman that they like and expect to play a big role on their team for another half dozen years.
The Canadiens should be looking to do the same with Mete. He is already a regular in their top four at even strength and is just 21 years old. He has put a handful of pucks into the net and has looked far more comfortable offensively as a result.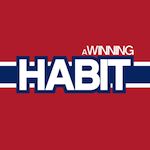 Want your voice heard? Join the A Winning Habit team!
Write for us!
The left side of the Habs defence hasn't been a strength for a number of years. Mete has already shown he is part of the solution. The Canadiens should be looking at what the Flames just did with Andersson and trust that Mete is worth a long-term extension at $4.5 million.