Montreal Canadiens: Where Will Ilya Kovalchuk Fit In Habs Lineup?
The Montreal Canadiens surprised a lot of people in the hockey world yesterday when they signed Ilya Kovalchuk. Where will he fit in the Habs lineup?
The Montreal Canadiens signed Ilya Kovalchuk yesterday which was a surprising move from both sides. The Habs have been embracing a bit of a youth movement this season and have seen positive results. It doesn't make a ton of sense on the surface to see them sign a 36 year old winger.
Also, that winger was recently released by the Los Angeles Kings who tore up his contract after he was ineffective for them. He said he was looking to sign with a contender, but with 42 points in 41 games, can the Canadiens be considered a contender by anyone?
So, it was a bit of a shocker to see Kovalchuk signed with the Canadiens. However, once you see the details and consider where he is going to fit in the lineup, it starts to make a lot more sense for Montreal. Also for Kovalchuk, it only makes sense if no teams closer to the playoff picture offered him a contract, which is likely the case.
Kovalchuk was once among the best goal scorers in the league. He was the first overall pick in the 2001 NHL Draft and led the league in goals in the 2003-04 season when he was just 20 years old. Kovalchuk scored 40 goals on five occasions and twice topped the 50 goal plateau.
But that was in his 20's and now he is in his late 30's. He left the NHL following the 2013 lockout shortened season to return to the KHL. He returned for last season when he signed a three-year contract with the Kings with a $6.25 million cap hit.
He scored 16 goals and 34 points in 64 games in his first year back. This season, he had nine points in 17 games before he cashed his bonus check and then agreed to tear up his contract. His speed and defensive play were both noticeably worse than during his first stint in the NHL.
The 6'3″ and 223 pound Russian shoots right but can play either wing. He can still average just over half of a point per game as evidenced by his production with the Kings. Also, Kovalchuk was given pretty favourable linemates last season, but he mostly played with Adrian Kempe and Trevor Lewis this season. They aren't the most offensively gifted players in the league, but Kovalchuk didn't produce much better playing in the Kings top six last year.
Who will he play with in Montreal? Well, there is definitely room for him with all of the injuries that the Habs are dealing with currently. Right now, left wingers Jonathan Drouin and Paul Byron are injured, as are right wingers Brendan Gallagher and Joel Armia. There is no question the Habs can use some reinforcements in their lineup.
The biggest hole right now is on the top line with Tomas Tatar and Phillip Danault. Gallagher has been playing there and Nick Cousins stepped into that role in Gallagher's absence. I don't think that's the best spot for Kovalchuk as Danault often takes on tough defensive assignments and that's not really Kovalchuk's speciality.
The Habs second line of Artturi Lehkonen, Max Domi and Nick Suzuki has been playing extremely well lately. There is no need to break them up as they can play against just about anyone and produce quality scoring chances on nearly every shift.
The best spot for Kovalchuk right now would be on Jesperi Kotkaniemi's wing. You could also put Ryan Poehling on the line and give them easier matchups and offensive zone starts to ease the defensive burden. Kotkaniemi has looked fantastic since returning from injury and Poehling has fit well on his wing. The pair created plenty of offensive chances in the Habs recent losses, but sometimes their right winger, Jordan Weal, couldn't finish off his opportunities.
If Kovalchuk can do one thing it is score goals. He has done it 436 times before in the NHL. Even during his final couple of years in Russia, Kovalchuk was the only one scoring more often in the KHL than Vladimir Putin would in a charity game.
With a couple of youngsters like Kotakaniemi and Poehling winning battles and setting up chances against the other teams third and fourth lines and bottom defence pairings, having Kovalchuk ripping one-timers that they create is a better option than Jordan Weal.
Weal has been given plenty of power play time and has seven points in 33 games this season. That means Kovalchuk had two more points in half as many games before the Kings cut him loose. I"m not saying he is an elite player anymore, but he is an upgrade on the Habs current depth pieces.
Speaking of Weal's power play time …. that shouldn't happen anymore. I mean, it shouldn't have been happening anyway, but Weal is a right shot who had been playing the left side on the man advantage. That is exactly where Kovalchuk should end up. He has a dangerous shot and would give the Canadiens a one-timer option on the power play.
Again, 36 year old Kovalchuk isn't going to score 40 goals like 26 year old Kovalchuk did. But he can still score more goals than Weal so he is an upgrade.
Also, I seem to remember the Habs drafting a right shot winger who has an elite shot and will almost certainly be a threat on the power play in the near future. Cole Caufield's Wisconsin Badgers are not having a great season and he could be free to sign with the Habs in early March. When he does arrive, would it be awful to have Ilya Kovalchuk teaching him a few things about getting open and hammering one-timers on the power play?
Of course not. The Canadiens play nine games in the next 15 days during their busiest stretch on the calendar. They will do so without Armia, Byron, Drouin and for at least three of those games without Gallagher as well. So, they brought in a veteran goal scorer to a half-year contract that will pay him $350,000.
If he plays like he did in Los Angeles and scores 25 points in the final 41 games of the season, it will be a bargain of a contract. If he doesn't play well and disappears from the roster like Ales Hemsky a few years ago, where is the harm? He's not holding any young players back, or eating up too much cap space.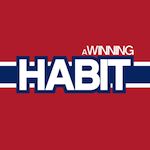 Want your voice heard? Join the A Winning Habit team!
Write for us!
Kovalchuk likely won't score many goals in his Habs tenure, but he could add some depth scoring, be a threat on the power play and show Caufield what it takes to be a scoring machine in the National Hockey League.