Montreal Canadiens: Four Prospects Playing Elimination Games Today
The Montreal Canadiens have four prospects at the World Juniors. All four of them begin the elimination stage of the tournament with quarter-final action today.
The Montreal Canadiens sent four prospects to the World Junior Hockey Championships. All four of them entered the tournament with gold medal hopes and a team good enough to fulfill those hopes. Their biggest tests begin today with Quarter-final action taking place.
The first game up is an early one and it pits Alexander Romanov and the Russians against Switzerland. You would think Russia would be huge favourites when you hear those two teams are facing each other, but Switzerland finished higher in the preliminary round standings.
The Swiss also had an easier slate of games, but they defeated Finland 5-2, kept things reasonably close with Sweden, dominated Slovakia and took care of business with Kazakhstan. They finished second in Group A, while Russia came in third in a much tougher Group B.
Russia started out the tournament by losing to the host, Czech Republic 4-3. They quickly bounced back with a huge 6-0 win over Canada, before falling 3-1 to USA. Russia needed a win over Germany to avoid finishing last in their group and heading to the relegation round. They dominated Germany and won 6-1, easing any anxiety early in the game by carrying the play for the majority of the game.
Romanov had a pair of assists in the game, and also had a goal against the Americans and an assist against the Czech Republic. He has played the most minutes of anyone on their team and is used in every situation. He has four points in four games and should play well over 20 minutes now that the games are a "win or go home" nature.
That game starts at 6:30 A.M. Eastern time and kicks off a full day of action at the World Juniors. I wouldn't call this an easy start to the medal round for Russia, but they are definitely the favourite and we should see Romanov move on to the semi-finals.
The next game of the day sees Canada take on Slovakia. Neither have any Canadiens prospects on their teams, but it will be interesting to see if Slovakia can put up any fight against Canada after struggling in the preliminary round. I'd say this is the most lopsided victory of the day.
The next game of interest to Habs fans takes place at 11:30 Eastern time. The United States face Finland in a tough quarterfinal matchup. The Americans finished second in Group B but thanks to a New Year's Eve loss to Switzerland, Finland dropped to third in Group A.
Cole Caufield is the marquee player in the World Juniors for Habs fans. He didn't dominate the preliminary round the way we hoped, but he did score the overtime winner in the American's final game, which ensured them second place in the group standings. He seems to be getting better and more comfortable as the tournament has gone along. Hopefully he can add to his goal and assist through the first four games. USA could use a big performance from him as they face a difficult test today.
Jordan Harris is also playing for the United States. He plays a top four role on defence, and is a contributor on the penalty kill. He has seen his ice time increased a little bit throughout the preliminary round and should see about 17 or 18 minutes today against Finland. He won't get much power play time, but he can move the puck up ice with speed and crisp passing, and also defends well with positioning and stick placement. He's not flashy, but don't expect Finland to get much done when Harris is on the ice.
The final game taking place involving a Habs prospect is the Sweden vs Czech Republic. Sweden once again was perfect in the preliminary round. That makes 13 straight years that Sweden did not lose a game before the quarterfinals. Their problems always start when the medal round begins.
Sweden has just one gold medal in that span, but once again have a team that is strong enough to win it all. Their Habs prospect is Mattias Norlinder and he is the team's seventh defender. Norlinder is a great skater and has played well in somewhat limited minutes, but is stuck behind a deep group of defenders.
This game could have the makings of a potential upset, except the Czech Republic have lost two of their best players to injury, Jakub Lauko and Jan Jenik have both been ruled out of the remainder of the tournament and the team just doesn't have to depth to make up for that, especially in a game against Sweden.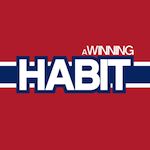 Want your voice heard? Join the A Winning Habit team!
Write for us!
Norlinder will take the ice at 2:00 P.M. Eastern time to face the host team. It would not come as a surprise if Russia, the United States and Sweden all move on to the semi-finals, with Caufield, Harris and especially Romanov playing huge roles in the quarterfinals today.