Montreal Canadiens: Alexander Romanov Helps Russia Narrowly Avoid Relegation Round
The Montreal Canadiens have a few top prospects at the World Junior Hockey Championships. Alexander Romanov helped the Russians avoid embarrassment with a win today.
The Montreal Canadiens announced in the past few weeks that they expect Alexander Romanov to be a member of their NHL team next season. He currently plays in the KHL with CSKA Moscow and has been a regular on their roster since he was 18 years old. Currently 19, Romanov has been suiting up for the Russian team at the World Junior Championships this week.
Romanov dominated at the tournament last season. He played seven games, winning a bronze medal after a tough defeat in the semi-finals, and scored a goal and eight points. He led all defencemen in scoring and also played incredible defensive hockey. He was named the top defenceman at the tournament for his efforts.
This year, even more was expected from him as he is now 19 and no longer an underaged player in the event. Russia, like always, had their sights set on a gold medal heading into the tournament, but they narrowly avoided a huge embarrassment.
Russia was placed in a stacked pool of teams this year. They started the tournament playing the host team, the Czech Republic, before facing Canada, then the United States and finally Germany.
Surprisingly, they started off the tournament with a loss to the Czech Republic on Boxing Day. They played well, but a handful of penalties and a raucous crowd of supporters helped Czech Republic finish with a 4-3 win. Romanov played okay in the game. Not fantastic, but not bad in 23:11 time on ice which led all Russians, and he added an assists, but it was a disappointing loss for them.
They bounced back quickly with a convincing 6-0 victory over Canada in their next game. Romanov didn't have any points but played great defensively, moved the puck up ice well and obviously kept the Canadians off the scoreboard in his 18:46 on the ice.
Next up was a big game against the Americans. Having lost to Czech Republic, and Germany beating Czech Republic, it was possible Russia could drop to fifth place in their group with a loss.
Romanov led the team in ice time once again with 22:11 and he scored a goal in the third period. It wasn't enough for Russia though as they fell 3-1 to USA. This meant Russia would need to beat Germany in their final game, or they would be facing Kazakhstan in the relegation round. The loser of the relegation round will not be taking part in next year's World Juniors that you see on tv. They will play in the Division 1A tournament that isn't televised in North America at all.
Thankfully, another great game from Romanov and some other Russian stars stepping up, led to another easy victory. Russia came out flying in the first period, outshooting Germany 15-7, scoring twice and controlling even more of the play than the shots would lead you to believe.
Russia really broke through in the second period with three power play goals, Romanov had two assists and was second on the team in ice time with 19:31. Russia won 6-1 in their second lopsided victory of the tournament and avoided an embarrassing relegation series.
Romanov continued to improve every game and looked great against USA and Germany. He plays lots of minutes at even strength, on the power play and shorthanded. He has a goal and four points in four games. Now, Russia just waits to see the result of today's final games to see where they land in the standings and who they will face in the quarterfinal on Thursday.
The most likely scenario is Russia finished third in their pool and play Finland in the quarters. However, if Canada loses in overtime to Czech Republic, Russia would drop to fourth and play Sweden in the quarters which would make for a very difficult path to gold. Even playing Finland is not going to be a walk in the park for Russia.
However, Russia has gotten better and better as this tournament has gone on. Excluding their loss on the first day of the tournament, they destroyed Canada and Germany and lost a close game to USA who have an excellent goaltender in Spencer Knight. With Russia's power play finally breaking through against Germany, they could definitely beat the Americans in a rematch.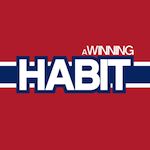 Want your voice heard? Join the A Winning Habit team!
Write for us!
In fact, Russia could beat anybody in this tournament. They have a deep, talented team and look to be firing on all cylinders now. They will be a tough out, but a pair of losses means they will have no easy games from here on out. With Romanov leading the way on the blue line, they have a great chance at another medal.