Montreal Canadiens: Odd Coaching Decisions Holding Cole Caufield Back At World Juniors
The Montreal Canadiens top prospects at the World Juniors aren't exactly lighting it up early on. Questionable line combinations for the United States could be to blame for Cole Caufield's lack of scoring.
The Montreal Canadiens drafted Cole Caufield 15th overall at the 2019 NHL Draft. They were fortunate to have such a dynamic goal scoring threat fall to them in the middle of the opening round of the draft. Caufield hasn't disappointed since being drafted either, making the jump to NCAA seamlessly and continued his scoring ways with the Wisconsin Badgers.
Caufield is now representing his country at the World Junior Hockey Championship and for the first time in his life, he isn't among the top goal scorers on his team. Now, it has been just two games and he scored four times in the last exhibition game before the tournament officially began, but he hasn't been able to find the back of the net yet.
Caufield hasn't been his normal, dominant self on the ice, but a few questionable decisions by the American coaching staff haven't put the Habs elite prospect in a position to do what he does best, which is score goals.
Caufield proved at every level of his career that he can be an elite goal scorer. Dating back to his Bantam days (and I'm sure further back, but you can't find those stats online) Caufield has been a goal-per-game scorer. He did it at the Bantam level, the High School level, with the national Under-17 program, with the Under-18 national team he did it as well, scoring 72 goals in 64 games.
Even on the national stage, Caufield has been an unbelievable goal scoring threat. He had eight goals in six games at the World Under-17 Championship and then scored 14 goals in seven games at the World Under-18 Championship the following year.
This year, as a college freshman, Caufield isn't scoring a goal-per-game, but he has 12 in 18 games and is over a point-per-game with 20 in those 18 contests. Still, he remains pointless after losing to Canada and beating Germany at the World Juniors in the last two days.
At least part of the blame for his lack of scoring can be blamed on the coaching staff. When you have a player that is an elite goal scoring winger, it only makes sense to put a playmaking center on his line if you can. The Americans certainly have elite playmaking centres on their team, and one of them happens to play for the same Wisconsin Badgers team that employs Caufield.
That would be Alex Turcotte. He doesn't always play with Caufield at even strength in Wisconsin, but they play tons of power play minutes together and certainly have chemistry. Trevor Zegras is another exceptional playmaker at center and though he plays for Boston University now, the pair player together, as well as Turcotte, last season with the U.S. National Development Program.
Zegras and Turcotte were drafted even higher than Caufield last June, with Turcotte going fifth overall to the Los Angeles Kings and Zegras being taken by the Anaheim Ducks with the ninth overall selection. Putting one of those players at center on a line with Caufield would have made a lot of sense. Heck, putting all three of them together with Zegras playing left wing would have made for an extremely talented line.
Instead, Caufield lined up in game one against Canada with Jack Drury as his center and John Beecher on the left side. Drury is more of a defensive-minded player, who had 24 points in 32 games as a freshman for Harvard in 2018-19. He has ten points in ten games this season, so it's not that he is devoid of offensive talent, but he lacks the exceptional offensive qualities that made Zegras, Turcotte and Caufield top 15 picks.
Beecher is a huge player that can skate well, but he also lacks the extra gear offensively that has been gifted to the aforementioned trio of college freshmen. Beecher played on the same national program team as Caufield last year, but while Caufield, Zegras and Turcotte were playing top six minutes, Beecher was relegated to third and fourth line duties.
Caufield finished the season with 72 goals and 100 points. Zegras had 87 points and Turcotte scored 62 in just 37 games. Beecher on the other hand, scored 43 points in 63 games. I'm sure the Boston Bruins are happy to have taken him in the waning moments of the first round of the 2019 draft, but Beecher doesn't have anywhere near the same vision and talent as Caufield.
Caufield played just 2:53 of the third period in the Americans win over Germany yesterday. The only player to play less was Cam York who is the team's seventh defender. Meanwhile, Zegras was finally moved up from the fourth line after scoring four assists in the opening two periods while receiving just 4:44 of ice time. He basically had a point-per-shift before being moved into a more prominent role.
That more prominent role unfortunately came at the expense of Caufield. Instead, after seeing Zegras set up the likes of Curtis Hall for tap in goals, it should have crossed the American coaches minds to put an elite playmaker like Zegras with an exceptional goal scorer like Caufield.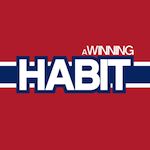 Want your voice heard? Join the A Winning Habit team!
Write for us!
Hopefully, with a day off and a practice today, the Americans will shuffle their lines once again and find a linemate capable of playing on Caufield's level. He is as talented a goal scorer as there is in this tournament, he proved it at the World Under-18 Championships. He just needs someone to get the puck to him.