Montreal Canadiens Proving They Are Stanley Cup Contenders
The Montreal Canadiens have been on fire lately. They are 7-1-1 in their last nine games and continue to defeat the top teams in the league. They are clearly proving to be Stanley Cup contenders.
The Montreal Canadiens got off to an uneven start to the 2019-20 season. After a 96 point season a year ago, and minimal changes to the roster over the summer, it was difficult to predict how good this team would be. Well, they have now reached the 20 game mark and all signs are pointing to them being Stanley Cup contenders.
At the quarter pole of the season, the Habs have a record of 11-5-4 which gives them 26 points in 20 games. This has them on pace for a 107 point season which would have them not only in the postseason, but would surely give them home-ice advantage in the opening round of the playoffs.
It was predicted by almost everyone that the Tampa Bay Lightning, Toronto Maple Leafs and Boston Bruins would be the three teams to qualify for the three playoff spots in the Atlantic Division. This would leave the Habs battling for a wildcard spot like they were last season when they fell just two points short.
Right no though, not only are they a top eight team in the Eastern Conference, they are currently ranked 7th in the NHL standings. They remain three points back of the Bruins in their division, but are sitting second place in the Atlantic right now.
They also defeated the Bruins 5-4 in their lone meeting so far. This was no fluke as the Habs are proving to be an elite team when facing the other top teams in the National Hockey League. They took out the Bruins, but also have defeated the St. Louis Blues twice already.
The Blues are 12-4-5 after winning the Stanley Cup last season. The Habs also took out the league's best team, the Washington Capitals and looked great doing it. Montreal went into Washington on Friday night and hammered the Capitals 5-2. The Habs also traveled to Arizona and won 4-1 over the 12-7-2 Coyotes who are eighth in the overall standings.
That means the Habs have played six games against teams that are currently in the top ten of the overall standings. They are 5-0-1 in those contests with their lone loss coming on opening night of the season in a shootout against the Carolina Hurricanes.
The narrative forming in some circles around Habs fandom is the team can't beat the teams at the bottom of the standings. That might have been true very early in the season, but is starting to change.
The Habs just lost last night to the New Jersey Devils who are near the bottom of the Eastern Conference but they lost in overtime and secured one point. They beat the struggling Columbus Blue Jackets earlier this week and took out the Los Angeles Kings last weekend. They also beat Vegas in Nevada to close out their October schedule and are 2-0 against the struggling Toronto Maple Leafs.
Yes, they have losses to the San Jose Sharks, Detroit Red Wings and Minnesota Wild in October but if you are focusing on those three games you are ignoring the fact they are 12-4-2 in their other 17 games this season and that wouldn't make much sense.
What is most impressive about the team right now is how they are winning games. They are difficult for opposing teams to stop because they are getting contributions from everywhere in the lineup. There are many teams around the league that have one stacked line and not a lot of depth. The Habs are the opposite. They don't necessarily have one line with Art Ross candidates on it, but they can expect all four lines to contribute at both ends of the ice.
They do have an excellent two-way line with Phillip Danault between Brendan Gallagher and Tomas Tatar. Tatar is leading the team with 20 points in 20 games, and Gallagher leads the goal category with nine. They have eight players with at least ten points and also eight players with at least five goals. That means they have eight players on pace for at least 20 goals and 40 points.
Their fourth line has been anchored by Nate Thompson all year and he has been joined by Nick Cousins and Jordan Weal lately. Thompson has seven points in 20 games, Cousins has seven in 14 games and Weal has three goals in 12 games played. They can all be counted on to shut things down defensively, giving the team tremendous depth up front.
They are also getting major contributions from players at both ends of the age spectrum. Victor Mete is 21 years old and finally scored his first NHL gaol earlier this season. Since then he has been a much more confident player and regularly jumps into the rush to create offence. He not has three goals and six points in 20 games, is a plus-9 and is being counted on to be a top four defenceman.
Nick Suzuki is a 20 year old rookie but was just moved to the second line center position, pushing Max Domi to the wing. He started the year with just one points in his first six games. He has eight in his last 14 games, points in three straight contests and was just one the ice for over 18 minutes in a game for the first time all season.
Also, the Habs veterans have been exceptional. Shea Weber started the year with just two points in his first six games. Since then, the 34 year old defender dialled the clock back and scored six goals, nine assists and 15 points in 14 contests. He has been a force at both ends of the ice.
Carey Price is also playing extremely well after a shaky start. His first five games weren't the best of his career, but the Habs managed to string together a 2-2-1 record in those games. Since then, Price has been excellent.
The Canadiens are 8-2-1 in Price's last 11 starts, with the goaltender posting a 2.27 goals against average and a .927 save percentage. The 32 year old is proving he can still handle a heavy workload and provide exceptional results.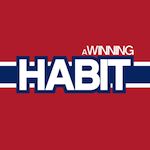 Want your voice heard? Join the A Winning Habit team!
Write for us!
With veterans like Price, Weber and Thompson and youngsters Like Suzuki and Mete and everyone in between contributing, it is no fluke that the Canadiens have been able to dominate against top ten teams in the National Hockey League. They have cleaned up their missteps against lower seeds and are clearly a Stanley Cup contender.