Montreal Canadiens: Marc Bergevin Avoiding Free Agent Frenzy Proves Correct Again
The Montreal Canadiens have rarely been hunting for big game during the annual free agent frenzy. Marc Bergevin has largely stayed away from big free agents and another reminder was given yesterday that this is the correct strategy.
The Montreal Canadiens have largely been on the sidelines when free agent frenzy is going on. Much to their fans dismay, every July other teams sign players to huge contracts thinking they just made their team better, while the Habs sit mostly idle grabbing free agents from the fringes of the list.
Since Bergevin was hired as general manager of the Habs, avoiding free agents on July 1 that come with big tickets is more of a mandate than a tendency. There are many mistakes made on July 1, and though we are aware of this as fans, we always want to see the team improve in the offseason.
So, we are usually a little disappointed when rival teams sign big name free agents and the Habs add a few depth pieces to their organization. However, Bergevin's decision to mostly avoid big signing on the free agent market is proving to be the best decision.
His first foray into free agency was on July 1, 2012. The biggest signings that summer were Ryan Suter and Zach Parise who both went to the Minnesota Wild. Those deals haven't exactly worked out for the Wild. The Habs added Brandon Prust, Colby Armstrong and Francis Bouillon that summer.
The next year, I can distinctly recall being very hopeful that the Habs could get a deal done with Nathan Horton and was a little concerned when the rival Maple Leafs ended up with David Clarkson. Both of those players are with the Leafs now (technically) still on the contracts they signed in 2013 but they have combined to score 22 goals since then.
In 2014, there were plenty of rumours that the Habs could be in on Matt Moulson who we all thought was a goal scoring left winger. Or, perhaps they would re-sign Thomas Vanek who played well for them down the stretch but wasn't great in the postseason.
Moulson signed a big deal with the Buffalo Sabres for five years and Vanek got a three year pact from the Minnesota Wild. Vanek bought out after failing to live up to his free agent frenzy contract and Moulson spent almost as much in the AHL as he did in the NHL over the length of his contract.
In 2015, Habs fans were once again staring at a weak free agency crop, but thought the Habs could improve the team with the right player. Matt Beleksey and Michael Frolik were two players that kept coming up as potential targets for the Canadiens. They each signed five year contracts, Beleskey with the Boston Bruins and Frolik with the Calgary Flames.
Bergevin reportedly was in talks with both players but was not willing to go near five years with either player. Both players are in the fifth year of their deals now and Beleskey is playing in the American Hockey League after being a cap dump and Frolik has been a healthy scratch several times in the past two seasons for the Flames.
The worst job by general managers came in the summer of 2016. Once again, I, along with many other Habs fans were hoping Bergevin would grab a free agent to improve the team's scoring. A top six winger with size and scoring ability would have been perfect. And there were plenty of them available. Or so we thought.
Kyle Okposo, Milan Lucic, Andrew Ladd, David Backes, Frans Nielsen, Troy Brouwer and Loui Eriksson all scored 20 goals heading into free agency with the exception of Brouwer's 17 and most of them brought a physical, nasty edge to their game that would have helped bring a different dimension to the Habs top six.
Bergevin looked at that list and then signed Alexander Radulov who was playing in the KHL for most of the previous eight seasons to a one year deal. Aside from Brouwer, the aforementioned forwards all signed for at least five years and at least five million dollars per season. Another thing they all have in common is being vastly disappointing to their new teams.
Yesterday, the New York Islanders put Andrew Ladd on waivers. He has three more seasons after this one on his contract with a $5.5 million cap hit. The Edmonton Oilers somehow found a way to move Lucic's contract last summer and the Flames bought out Brouwer, but the rest of the teams are stuck paying for an over the hill player that used to be pretty good. Thanks to Bergevin, none of them are on the Habs because he was not willing to give them the term they were seeking and found elsewhere.
Radulov outscored all of the other free agents the following season. The only problem with that contract was it did not go long enough and he was a UFA once again a year later and moved on to the Dallas Stars.
That summer when the Habs lost not only Radulov but also Andrei Markov was when Bergevin finally decided to dip his toe in the free agent waters. Unfortunately, he signed Karl Alzner to a five year contract with a $4.625 million cap hit each season. He was also rumoured to be looking at Martin Hanzal but didn't like the price tag and wisely bowed out of those negotiations.
In 2018, there were many Habs fans hoping the team could add center help by signing either John Tavares or Paul Stastny. Bergevin was of course interested in these players but it doesn't sound like he came very close to signing either of them. It is still pretty early to tell if the huge contracts signed by those two veteran centers will prove to be bad deals, but the past tells us there will eventually be some regret.
Last summer, Bergevin dipped into free agency a bit again, but waited for the big signings to be completed. On July 5, he signed Ben Chiarot to a three year contract with a $3.5 million cap hit after signing Keith Kinkaid to a one year deal to be the team's backup goaltender and Nick Cousins to a one year deal for a million bucks.
It's too early to tell how this Chiarot contract will look in the future, but he has been playing well after taking a few games to adjust to the Habs system. Trying to build a team through free agency simply doesn't work in the National Hockey League. We got another reminder of that yesterday when Ladd was placed on waivers with only half of his huge contract completed.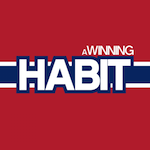 Want your voice heard? Join the A Winning Habit team!
Write for us!
Thankfully, Bergevin has been building the Habs through the draft and with some shrewd trades and rarely relies on the free agent market to acquire a key piece of the team. He tried once and it didn't work. We may have been disappointed as Habs fans in the past with Bergevin's frugal spending, but at least we aren't saddled with contracts like Lucic's and Beleskey's.