Montreal Canadiens: Can Marc Bergevin's plan for Ryan Poehling play out?
Ryan Poehling is back with the Laval Rocket after a short stint playing fourth-line minutes on the Montreal Canadiens. Will he be back at some point?
Ryan Poehling making the Montreal Canadiens out of camp, was the lock of the season if you asked anyone in August. That said, it made sense why he was initially sent down as Nick Suzuki had an incredible camp while Poehling missed time recovering from a concussion.
Once in the AHL, Poehling started to come alive offensively after going the first three games without a point. The 2017 first-round pick then went off for three goals and two assists in six games before hitting another cold spot. It didn't change the excitement from the Habs fanbase when he was called up to play some Habs games.
Poehling got a four-game stint, not seeing more than ten minutes a night on the fourth line. Marc Bergevin made it clear that it was his limited playing time that led to his second demotion this year:
His ice time has been below 10 minutes and as a young player he needs to play…But right now is an occasion for us to have him go to Laval, play some games, (and) get more ice time for his development.
Bergevin is not wrong here. Poehling is a player who could play in the Montreal Canadiens' top-nine right now, but there isn't enough room to accommodate him. It's ironic saying this, but the team's centre depth is playing the villain at the moment.
Another key line from Bergevin's presser regarding Poehling was: "The plan is eventually having him in Montreal."
That's a very attractive plan, but can it become a reality?
Poehling can't get a proper spot in the lineup right now, and that's without Jesperi Kotkaniemi playing. Right now, it seems as if the only way that plan can come to be is if there is another injury in the top-six. Fingers crossed that doesn't come to be.
Another avenue has been something a lot of minds – including others at A Winning Habit – have discussed on multiple fronts. That being moving Max Domi to the wing.
Not something Claude Julien would be willing to try considering he hasn't entertained the idea once. At the same time, Domi is having an excellent start to the season, and nothing has happened yet that warrants that type of alteration. Unfortunately, it would only be a short-term fix seeing as how Poehling would be in the same depth jam once Kotkaniemi returns to the team.
Unless a trade happens, there doesn't seem to be a way Bergevin's plan for the Montreal Canadiens can come to be. And that ties into something else the Habs general manager said.
This isn't to say that Phillip Danault is now available. However, if the goal is to have Suzuki, Poehling, and Kotkaniemi be the 1-2-3 down the middle, Danault will likely be the odd person out. That's probably a conversation for next season when Danault is a pending UFA.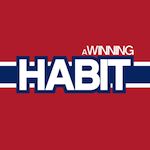 Want your voice heard? Join the A Winning Habit team!
Write for us!
For now, Montreal Canadiens fans will have to get used to the idea of having Poehling in the American Hockey League all season. But who knows, stranger things have happened.