Montreal Canadiens Prospect Cam Hillis Having Exceptional Bounce Back Season
The Montreal Canadiens didn't get to see Cam Hillis at his full potential last season due to injuries. He is fully healthy and tearing apart the Ontario Hockey League right now.
The Montreal Canadiens have clearly decided it is wise to draft as many players as possible at the last couple of NHL Drafts. Draft picks are like raffle tickets, the more you have the better chance that you will win a prize after a while.
The NHL Draft currently consists of seven rounds. That means, by default every team starts out with seven selections in each draft. Early on in Marc Bergevin's tenure with the Habs, they didn't prioritize having a large number of draft picks.
During his first draft with the team in 2012, the Habs made seven selections. The next year they made eight. After that is was just six, then five and then six again. In 2017 they made seven selections, so they traded away as many draft picks as they acquired.
Clearly, over the past two drafts that philosophy has changed. The Canadiens obviously believe that more draft picks, no matter what round, will lead to more prospects that have a chance to play with the Canadiens in the future.
In the 2018 draft, the Habs made 11 selections. The following year saw them take 10 prospects at the draft. That's 21 players that were added to the prospect pipeline in a span of 366 days. The more darts you throw at a board, the more darts that are going to hit near the bullseye. The more players you draft at the NHL Draft, the more future NHLers you end up with on your team.
Thanks to this strategy of loading up on draft picks, the Habs have one of the best prospect groups in the entire league right now. First round picks like Ryan Poehling, Jesperi Kotkaniemi and Cole Caufield are a huge part of that, but deeper picks have helped as well.
One of those deeper picks was Cam Hillis. He was taken in the third round of the 2018 draft by the Habs. He had scored 20 goals and 59 points in 60 games as a 17 year old before the Habs tabbed him as a third rounder at the draft.
Last season was a bit of a disappointment for the Oshawa, Ontario native. It's not that he played terrible, but his season was marred by injuries. He was held to just 33 games played, few of which he was at 100% and he scored 22 points. He was only able to suit up in two playoff games as the Guelph Storm marched to an OHL Championship.
Hillis is healthy this year and has certainly found his groove with the Storm. Last night, he had two goals and two assists and surpassed his point total from last year in just his 15th game of the season. The Guelph Storm should be rebuilding after winning a championship last year, but Hillis is carrying them into the playoff hunt.
Hillis actually started the year slowly. After missing so much time last year and almost never playing healthy all season, he had just three points in his first seven games this season. Since then, he has been literally unstoppable.
He scored three goals and five points against the Erie Otters on October 18th. Since then, including that game, Hillis has an incredible 21 points in just eight games. That's an average of 2.625 points per game for Hillis in that stretch.
After a slow start, it looked like Hillis wasn't going to have much of a year. Now, just a few weeks later he has climbed into the top 20 scorers in the league. Considering how slow he started, we could see him climb even higher in the OHL scoring charts in the coming weeks.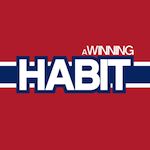 Want your voice heard? Join the A Winning Habit team!
Write for us!
Hillis wasn't a first round pick, nor did he have a tremendous season after being drafted. However, he is proving that the Canadiens strategy of loading up on draft picks the past few years is a wise one. Sometimes, those raffle tickets from a little later in the draft pay off.