Montreal Canadiens Injury Report: Jacob de La Rose is not making the trip
After receiving a therapy day to sit out of practice, the Montreal Canadiens announced Jacob de La Rose will also not be making the trip to Toronto.
Hate to jynx things here, but the Montreal Canadiens injury bug is back. What looks to be the almost completed roster took part in practice Monday afternoon ahead of their season opener against the Toronto Maple Leafs. However, both Jonathan Drouin and Jacob de La Rose sat out as they were given therapy days.
The Habs announced an update revolving around the latter of the two in that de La Rose will not be making the trip to Toronto. According to the public relations account, a cardiac epsiode is preventing the 23-year-old from being cleared by the team's medical staff forcing him to remain in Montreal for further evaluation.
Arpon Basu of The Athletic cleared things a little further saying the condition isn't serious and that for the time being, it is a precautionary measure. But for now, de La Rose won't be in the lineup.
It's a blow for the young centre who is entering the first year of his new two-year contract extension. However, it does solve some issues the Montreal Canadiens needed to make surronding the final roster ahead of the 5:00 PM ET deadline.
The Habs needed to deal with one more spot as Andrew Shaw told media at practic that he was ready to start the season. Placing Nicolas Deslauriers on injured reserve solves on problem, but there was still an issue as one of Nikita Scherbak, Charles Hudon, or JDLR would need to be cut.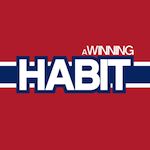 Want your voice heard? Join the A Winning Habit team!
Write for us!
It's a bittersweet situation that a condition needed to be the deciding factor, yet Montreal's problems are solved for now. Things will get complicated again once de La Rose is ready to go as well as Nicolas Deslauriers and David Schlemko. But for now, the roster is set.