Montreal Canadiens: Fans give their own grade for Marc Bergevin
Montreal Canadiens general manager Marc Bergevin received his F from the NHL Network, but the fans have grades of their own.
You've probably seen the general manager's report card from the NHL Network already. If not, Marc Bergevin received an F for his time with the Montreal Canadiens.
It's true that Bergevin has made some polarizing decisions since taking the mantle of GM, especially on the trade market. But his efforts have led the team to three divisional titles. What hasn't been going for Bergevin is longevity in the playoffs, and the Montreal Canadiens may not see one for some time.
That's one opinion though. Habs fans have never been shy to share their opinion on the on-goings involving the team. We put out a poll on our Twitter account asking what grade Bergevin should receive, and the results were consistent with expectations.
It was very close between a C and an F with the former getting a very slight edge. Again, both grades are understandable and justifiable. Although the Habs have had a lot of regular season success, you could argue that Bergevin hasn't put the team in a position to win a championship yet. Whether that changes in the next year or two is one thing, but with the focus transitioning towards youth, it will be a while before that happens.
The hardest work for Bergevin starts this season. The organization has placed their faith in his hands, but it'll be interesting to see if he's able to improve his mark in both the eyes of the NHL and Habs fans alike.
In Case You Missed It
New comparable for scoring wingers
Tom Wilson's new contract with the Washington Capitals does a lot of favours for Max Pacioretty as he enters the final year of his deal.
Did Marc Bergevin deserve to get a failing grade?
Bergevin got a failing grade for his time with the Habs.
Opportunity to match 2018's draft total in 2019
The Montreal Canadiens had 11 picks headed into the 2018 NHL Draft, and with 9 already, they could match that total next year.
Deadlines to sign prospects from the 2018 draft
The Habs can only have the rights to prospects for so long, and there different lengths between the player they drafted in Dallas.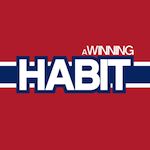 Want your voice heard? Join the A Winning Habit team!
Write for us!
Morning Links
Michael Ryder's ECHL detour is a forgotten success story for the Canadiens (HEOTP)
Looking back at Michael Ryder and his time within the Habs organization.