Montreal Canadiens: Deadlines to sign prospects from the 2018 draft
The Montreal Canadiens added eleven players to their organization at the 2018 draft, and there are different lengths of time before they need to be signed.
There is a limit to the number of player rights an organization can hold. That's where the Reserve List comes into play. There's a 90-player maximum which includes players signed to contracts and draft picks, but those rights don't last forever which is something the Montreal Canadiens need to keep in mind moving forward.
Jesperi Kotkaniemi was the only prospect from the 2018 Draft Class to receive an entry-level contract. The Montreal Canadiens could've easily waited to sign him which could hint at it not being very long before he's playing for the team. Playing the entire season in the NHL may be tough to gauge, but I think it's safe to assume Kotkaniemi will get a set of games at the beginning of the year.
Jesse Ylonen (35th overall) and Jacob Oloffson (56th overall) are committed to playing in Liiga and the SHL respectively. Both leagues fall within the NHL Transfer Agreement, and as they were 18 at the time of their draft, have four years before they need a contract.
Next are Cameron Hillis (66th overall), Allan McShane (97th overall), Cole Fonstad (128th overall), and Samuel Houde (133rd overall). All four players were drafted out of the Canadian Hockey League, and thus, the Habs only have two years to get them signed. If they haven't been given an entry-level contract by June 1st, 2020, they can re-enter the draft.
Three of the Habs prospects from Dallas have committed to a college to play in the NCAA. Jordan Harris (71st overall) is going to Northeastern University, Jack Gorniak (123rd overall) to the University of Wisconsin, and Brett Stapley (190th overall) will be off to the University of Denver. Similar to Ylonen and Oloffson, the Montreal Canadiens will have until August 15th, 2022 to get them signed.
Alexander Romanov is a curious case as his rights to the organization are retained indefinitely. He was drafted out of a league that is not included in the NHL Transfer Agreement and is most likely to play in the KHL (which is also not part of the list). The Habs have all the time in the world to Romanov unless he moves to a league that the NHL does have an agreement with.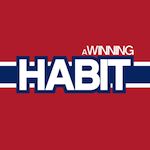 Want your voice heard? Join the A Winning Habit team!
Write for us!
As good as it will be to see every player the Montreal Canadiens drafted pan out, there's a good chance the Habs let some of them walk. But there is ample time to track their progress and see who is worth holding on to.