The Brampton Beast Renew Affiliation With the Montreal Canadiens
The Montreal Canadiens will continue to have the Brampton Beast as an ECHL affiliate for the third year in a row as their agreement has been renewed.
A lot of fans of NHL teams mostly pay attention to the two levels of play: the NHL and the AHL. The AHL is a great way for additional players in the organization to get playtime and for young prospects to get professional experience. However, there's another level that has just as exciting hockey and that's in the ECHL. The Montreal Canadiens have had the Brampton Beast as their ECHL affiliate for the past two years, and thankfully will have a third for this upcoming season.
The Beast announced the renewed affiliation Thursday, which is nothing short of a great thing for the organization. It's further opportunity to add more talent to the Canadiens and develop the prospects and players they already have.
If you haven't been following Brampton, you probably should. For starters, they had their best regular season record in years last season. The team finished going 40-24-8 for 88 points. That record slotted them 3rd in the North Division, 4th in the Eastern Conference, and 9th in the league overall.
Additionally, some players who were on St Johns (the former Habs AHL affiliate) spend time in Brampton as well. In particular Yannick Veilleux, who signed an AHL contract with Montreal this off-season, and Zachary Fucale. Yes, the same Fucale who will be battling for a spot on the Laval Rocket this year. Both will be at the Habs training camp.
Big things are coming for the Brampton. They managed to make it to the second round of the Kelly Cup playoffs last season, and there's no doubt that they can push further.
The Montreal Canadiens have a lot to look forward to at all levels. Fans can follow the Brampton Beast on Twitter @BramptonBeast. The Beast already have stars on the team who will lead them to another successful season. Who knows, one of them could very well end up on the Montreal Canadiens or the Laval Rocket in the near future.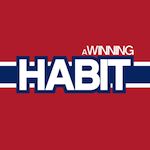 Want your voice heard? Join the A Winning Habit team!
Write for us!
Are you excited for another year of the Habs being affiliated with the Beast? Let us know your thoughts in the comments.