Montreal Canadiens: Charles Hudon Won't Clear Waivers
The Montreal Canadiens have a handful of players that will need waivers to be sent down to the Laval Rocket, but Charles Hudon will not clear them.
Now that training camp is set to start, Montreal Canadiens fans are already getting the mental blender out. It's all over Habs Twitter at the moment actually. Jonathan Drouin between Max Pacioretty and Artturi Lehkonen has been floated around. Even Drouin and Alex Galchenyuk as the 1-2 down the middle (but we know that won't happen…unfortunately).
One omission from a lot line-ups is Charles Hudon actually. Habs fans have other players such as Michael McCarron or Jacob de La Rose ahead of him. That wouldn't be a problem if waivers weren't involved.
Including Hudon and de La Rose, the Montreal Canadiens have 9 players who will need to clear waivers to be sent down to the Laval Rocket (via Capfriendly.com). These include: Peter Holland, Byron Froese, Zach Redmond, Daniel Carr, Chris Terry, Joseph Morrow, and Matt Taormina. Additionally, Andreas Martinsen and Brandon Davidson could be thrown into that list if they don't make the team.
The majority of these players will probably clear no problem. Some are unproven and some have also shown to struggle in the NHL. As good as de La Rose and Carr have been for the Canadiens in the past, there is one name that stands out. If Hudon doesn't make the Montreal Canadiens this season, and is put on waivers, he will not clear!
Keep Hudon in the NHL
There are obviously more reasons as to why Hudon is good enough to play in the NHL. He has the speed, skill, and hockey sense to do it. It may be difficult to commit defensively to the style of play Claude Julien expects from his players, but there's no doubt that Hudon will be able to keep up.
I understand some Habs fans rationale to not be so sold on a player that's barely played in the NHL. They're right. The 2012 5th round pick only has six games on his resume, and four assists to match. However, we can't ignore the potential here.
If Hudon is made available to all the other 30 teams in the NHL, there are a couple who can and will see value in him. The Colorado Avalanche have not been shy to add young forwards to their roster. Looking around the league more, I could see the Vancouver Canucks, New Jersey Devils, Los Angeles Kings, or the Vegas Golden Knights picking him up.
Personnel from other organizations always mention that there will always be interest for young talent. It wouldn't be wise for the Montreal Canadiens to let any team get the chance at Hudon.
At the end of the day, he needs to earn his spot. "Fear of being picked up from waivers", shouldn't be the sole reason for Hudon to be on the Habs. However, I'm confident, and I think Canadiens management is confident, that he can play in the NHL full-time. Waivers should just enforce that belief.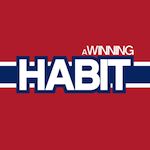 Want your voice heard? Join the A Winning Habit team!
Write for us!
Do you think Hudon will clear waivers? Let us know your thoughts down below.