Montreal Canadiens: Martin St. Louis Has Interesting Comments On Juraj Slafkovsky
The Montreal Canadiens will hit the ice for their annual Red vs White intrasquad game later today. Tomorrow, the Habs will begin their preseason schedule with a game against the New Jersey Devils.
With the Canadiens players taking part in a couple of training camp scrimmages over the past three days, the coaching staff has had a look at all 72 players that are in attendance at camp. Well, at least the 69 players that are healthy as Carey Price, Chris Wideman and Christian Dvorak are listed on the training camp roster but are injured.
One player who will have a bright spotlight on him during the preseason games is Juraj Slafkovsky. He was drafted first overall in the 2022 NHL Draft and made the Canadiens with a strong training camp a year ago.
Slafkovsky was injured halfway through last season and ended his rookie campaign with four goals and ten points in 39 games. He played well at times but also struggled for stretches as well.
Head Coach Martin St. Louis was asked about how he will ensure Slafkovsky will gain confidence this season and he had an interesting response.
The Canadiens bench boss essentially said it all comes down to touches. He wants Slafkovsky to have the puck on his stick more, which will lead to more confidence, which will then lead to more scoring chances and production.
St. Louis then said he can't buy confidence and hand it to Slafkovsky, but he can help him find open areas on the ice which will lead to more puck touches. It makes a lot of sense that they would focus on touches, as confidence can not grow very much in a player, especially a forward, if they rarely have the puck on their stick.
The question throughout this camp will be, does Slafkovsky gain more confidence playing in Montreal or Laval?
If the goal is to have him touching the puck as much as possible to gain confidence, wouldn't that be easier if he is playing in the AHL? Even though he played in the NHL last season, Slafkovsky may need to prove in preseason games that he is going to get the required touches in NHL games to gain confidence and develop his game.
If not, after being injured for the entire second half of last season, it might make more sense to have Slafkovsky start the season with the Laval Rocket where he will get to handle the puck a lot more.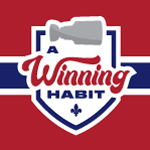 Want your voice heard? Join the A Winning Habit team!
Write for us!