Montreal Canadiens: Jonathan Drouin Finds Perfect Spot To Resurrect NHL Career
The Montreal Canadiens and their fans waited six long years for Jonathan Drouin to break out and show his full potential. It would never happen, at least not while he was with the Canadiens.
Heralded as a future cornerstone piece of the organization when he was acquired for Mikhail Sergachev, Drouin never found his rhythm in Montreal. His best season came in 2018-19 when he scored 18 goals and 53 points. Since then, he has had a difficult time staying healthy and a really hard time putting pucks in the net when he was on the ice.
Drouin played a total of 163 games over the past four seasons combined. That's essentially two full seasons of games in a four year span. In that time he scored 17 goals and 87 points. That had him playing like a nine goal and 43 point player over a full season in the games he did play.
Half a point per game isn't terrible production for a player, but when you are only known for offense and making $5.5 million per season, it isn't really enough. So, the Canadiens chose to let him walk as a free agent this offseason, though he is still just 28 years old.
His offensive struggles in the past four years have drawn a fair share of criticism and Drouin will now head to Colorado and try to get his game back on track with the Avalanche.
There really wasn't a better spot out there for him to land in his attempt to resurrect his career. Drouin was one of the best Junior hockey players of his generation and had quite a connection with Nathan MacKinnon when the pair played together with the Halifax Mooseheads for a year and a half.
In their only full season together, MacKinnon had 32 goals and 75 points in 44 games, earning the right to be chosen first overall by the Avalanche. Drouin was actually far more productive offensively that season, scoring 41 goals and 105 points in 49 games before being selected third overall by the Tampa Bay Lightning.
MacKinnon has gone on to become one of the best, and currently highest paid, players in the world. The Avalanche are reeling a little bit and looking for answers in their top six after losing Nazem Kadri, Andre Burakovsky to free agency and losing Gabriel Landeskog for all of next season to injury.
The door is wide open for Drouin to step in and play on the top line with MacKinnon. If that opportunity does not lead to a bounce back season for a player who was once considered one of the top prospects in the entire world, nothing will.
It is do or die time for Drouin in Colorado but he could not have found a better landing spot anywhere else in the NHL.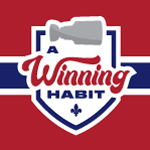 Want your voice heard? Join the A Winning Habit team!
Write for us!