What is the Canadiens Biggest Need Heading Into the Off-Season?
The Montreal Canadiens are not perfect. In fact, they're far from it, which is to be expected from a rebuilding team. This means the Canadiens have areas they must improve in if they want to one day become a cup-contending team. There might be more than one "need," but typically, there is one area a team could stand to improve in more so than the others. The challenge is figuring it out and, more notably, planning how they could go about improving it?
For the Canadiens, that need is unquestionably the offense, which has been average at best for a very long time. Some might suggest goaltending, but I have argued and will continue to argue that, at least for the time being, goaltending is not a position the Canadiens should rush to "fix." The offense, on the other hand, needs to get better ASAP. It's been way too long since the Canadiens have had a star forward or a vaunted offensive attack. If the Canadiens want to go anywhere, they must address this.
Luckily for the Canadiens, they have the fifth overall pick in a stacked draft class, which could help change things. As we lead up to the draft, I'll start posting some drat profiles on potential candidates for the fifth overall pick, so we won't go too in-depth on that here today. Just know that if the Canadiens are serious about building a skilled team that can score, this is an opportunity they cannot waste. This is a potentially franchise-altering pick. They have to get it right.
But what makes scoring such a significant need over their defense and goaltending? Well, the Canadiens have built teams that are very good both in net and goaltending, but they always came up short. In Carey Price's entire tenure in Montreal, the Canadiens were either awful or average offensively. In Price's rookie season, the offense was fantastic, but of course, He was not the player he would soon become. He never got another team nearly as good offensively as that team was.
The Canadiens' previous regime never did enough to address the offense, despite it being a significant problem. It has to be different this time around. And the Habs can do it in more ways than just the draft. Free Agency and trades can also be valuable tools for infusing more offense into the lineup. The Habs have been linked to Pierre-Luc Dubois for a while now, and he would be a great addition to the Canadiens' offense.
Now to be clear, the Canadiens should not be jeopardizing their future in order to temporarily fix the offense right now. Everything needs to remain aligned with the ultimate goal of building a team with sustained success. But I think it's clear that the Canadiens should finally emphasize offense, and scoring, an area that has been lacking for a very long time. Perhaps when the Canadiens are competing for a playoff spot down the road, their GM will be willing to trade more assets to try and win now. There are already pieces in place. It's just about adding a few more and maximizing their potential.
If the Canadiens can build a team that can score and play good defense, suddenly, goaltending becomes less of a concern. But you won't get very far when you can't afford to give up three goals in a game. That was the recipe under Carey Price, and it nearly worked. But if you couldn't win with him, I'm not convinced it can be done. So now it's time to try a different method, one with a much more proven track record.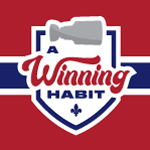 Want your voice heard? Join the A Winning Habit team!
Write for us!
Quick Disclaimer: As you may have noticed, the comment section no longer exists, unfortunately. Hopefully, it will make its return in some capacity soon because I love hearing your opinions on these topics. So, If you want to continue to share your opinion because I'd love to hear it, you can use the comments on our Facebook Page linked here. We post every article there, and we'd love to continue to let your voice be heard. Hope to see you there!