What Should a Cole Caufield Extension with the Canadiens Look Like?
It's not particularly busy in Montreal right now, regarding the Canadiens at least, so much of the talk around town is centered around Cole Caufield. The Canadiens' prized goal scorer has just finished his entry-level contract and is in need of a new deal for next season. Both parties are working towards a long-term extension, but it doesn't appear as though the two sides are all that close to an agreement just yet.
Technically speaking, Caufield is an RFA, meaning he's not in danger of leaving the Canadiens squad unless a team places an offer sheet on him, just like the Carolina Hurricanes did to Jesperi Kotkaniemi a few seasons ago. This time around, I doubt the Canadiens would find themselves in a position where they don't want to match, though, but it still could be a cause for concern. If nothing else, it could drive up the salary for Caufield, something the Canadiens would likely want to avoid.
Ultimately, I'd be surprised if a team offer sheeted Caufield, as it very rarely happens, but it'd be best to make sure that can't happen, if possible. Teams can begin offering contracts to RFA's starting July 1st, the same day Free Agency opens up for UFA's. Still, we know a contract needs to get done, but what will that look like, and when can we expect that to get done? Darren Dreger of TSN reported earlier today on TSN Radio in Montreal that he still expects a deal to get done, and although the negotiations have dragged on, there is no animosity between the two sides.
What Should a Cole Caufield Contract Look Like?
When discussing contracts, comparables are often used to gauge what a payer might be worth. In Caufield's case, there are a couple comparables that could help us understand what makes sense for both parties. The Canadiens need a player like Caufield, as his scoring is something the Habs have been lacking for quite some time. But it's important not to overpay, as cap flexibility is vital for any team that wants to contend for a Stanley Cup.
I like Nick Suzuki, Matthew Boldy, and Jack Hughes as a comparison for Caufield and his contract. They're all players of similar ages, and all three have already signed long-term extensions with their respective teams. Canadiens fans are obviously familiar with Suzuki and the eight-year, $63 Million ($7.875 Million AAV) contract he signed at the beginning of the 2021-22 season.
Matthew Boldy signed a seven-year, $49 Million ($7 Million AAV) extension with the Wild that will begin next season. Boldy and Caufield are similar players, as effective goal scorers for their respective teams. The AAV would likely be a little higher for Caufield if the Canadiens want an eighth year on the deal. Lastly, you have Jack Hughes, who signed an eight-year, $64 Million ($8 Million AAV) contract that began this year. Hughes is a better player than Caufield, which says way more about Hughes than it does Caufield. The Canadiens likely don't want to pay more for Caufield than the Devils are paying for Hughes, but I'd bet Caufield is asking for that, at least to start.
Remember, this is a negotiation, so both parties have what they want on the table. It's all about meeting somewhere in the middle. Luckily for the Canadiens, they have former player agent Kent Hughes as the GM, so he's been on both sides of the table. Nobody would know how these things play out better than him. I'm not super worried about a deal not getting done, and seeing as there haven't been rumours about an outrageous asking price, I'm not concerned about it "being quiet" on that front.
Ideally, an eight-year deal with a cap hit of $7.5-8 Million is acceptable, anything more and you get into a murky area for me, and anything less seems unlikely. This is Kent Hughes' first big test as a negotiator on the other side of the table, so it'll be interesting to see how he does. You'd think this area would be one of his strong suits. We'll have to see how it plays out, but I wouldn't fret, a deal will get done, and Caufield will be a Canadien for a long time. You can count on that.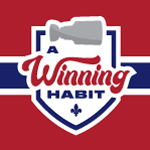 Want your voice heard? Join the A Winning Habit team!
Write for us!
Quick Disclaimer: As you may have noticed, the comment section no longer exists, unfortunately. Hopefully, it will make its return in some capacity soon because I love hearing your opinions on these topics. So, If you want to continue to share your opinion because I'd love to hear it, you can use the comments on our Facebook Page linked here. We post every article there, and we'd love to continue to let your voice be heard. Hope to see you there!