Bruins and Canadiens Belong on Hockey Night in Canada
On Thursday, the Canadiens and Bruins will meet for the third and final time this regular season. Unfortunately, all three games this season have taken place during the week on the TSN broadcast, which means they were blacked out for those not living in the Habs "region."  Blackouts are a thing that hockey fans must deal with. As ridiculous as they may seem to us, it doesn't appear as though they will be going anywhere anytime soon. But surely the NHL can schedule it so that the nationally televised games are the best the league has to offer, right?
Every single game the Canadiens have played against the Maple Leafs has been nationally televised, and the Habs were on National TV for three of the four contests versus the Senators. But for some reason, the best rivalry in sport is being limited to regional broadcasts. It just goes to show you how far behind the NHL is compared to the other leagues in marketing their game.
Take the MLB, another league that also deals with regional blackouts. Yet, they still find the time to ensure important games or rivalry games will be aired on national television. Even going as far as to ensure that on Sunday Night, it's the only game on. Now, I'm not suggesting the NHL do exactly the same thing, but they should strive for something similar. You won't find a year in which the Yankees and Red Sox didn't play a nationally televised regular season game. Heck, they usually play several, regardless of the teams' records. The NHL should take note.
And it's not as though the Habs primetime games have been reserved for a better matchup because there really isn't a better matchup than the Bruins. The Habs have played the Capitals and Blues twice on Saturday this year. Those matchups are not horrible, but I would suspect there isn't a benefit to putting those games on Saturday over a matchup against Boston.
Let's not kid ourselves, the rivalry between these two teams has definitely cooled over the last few seasons, but that's not a reason to essentially pretend it doesn't exist.  In no other league would they miss the opportunity to put its biggest rivalry on centre stage. Celtics and Lakers? Primetime. Packers and Bears? Primetime. Red Sox and Yankees? You get the gist. It's time the NHL does too.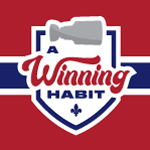 Want your voice heard? Join the A Winning Habit team!
Write for us!