Montreal Canadiens: Winning Games Is Only Good For The Rebuild
The Montreal Canadiens were not expected to be good at all this season. They finished last a year ago and were not supposed to be much better this season.
In fact, with the trade of Jeff Petry, and injuries to Joel Edmundson and Mike Matheson to begin the season, the team was supposed to be completely overwhelmed defensively and outplayed on a nightly basis.
So far, that has not happened. Sure, the Habs didn't look great against the Detroit Red Wings for some reason, and were out-skated and outplayed by a surprisingly great New Jersey Devils team, but they are in almost every game and have won their fair share to this point.
The Canadiens, at 9-8-1, have greatly outperformed anyone's wildest expectations to this point in the season. Winning half of their games was not expected and they now have won more games already this season than they won under Dominique Ducharme, who coached 45 games, last season.
That is correct, in their 18th game of this season, the Canadiens outlasted the Philadelphia Flyers in a shootout and won their 9th game of the season. They went 8-30-7 last season before firing their head coach, and then lost three more under Martin St. Louis before winning their 9th game of the 2021-22 season in their 49th contest.
Still, the amount of improvement, as incredible as it is from one year to the next, isn't even enough to have them in the playoff picture at this moment. Their 19 points in 18 games puts them three points back of the New York Rangers for the last wildcard spot.
This has some fans of the team worried that the Canadiens are going to land in the dreaded middle ground. That part of the standings where they aren't quite good enough to make the playoffs, but also aren't bad enough to get a top three draft pick to build around.
At least the 2021-22 Canadiens were rewarded with a first overall pick. But do we really want the team suffering through another putrid performance like we all regrettably had to watch last season?
No. We really don't. The fact that this team is showing some talent and battle and compete level right now is a fantastic thing. For many reasons.
First of all, the team is being carried by young players who are going to be around for a very long time. Nick Suzuki has 11 goals and 23 points in 18 games. Cole Caufield has the same number of goals and 19 points. Kirby Dach has fit in perfectly on the top line has 16 points in 18 games.
Suzuki is 23 years old, the captain of the team and is locked up for eight years. Caufield and Dach don't have long-term contract, at least not yet, but they are both 21 years old. Kaiden Guhle has been arguably the team's best defenceman and he is a 20 year old rookie who is playing on the top pairing and looks like a beast at both ends of the ice.
Jordan Harris (22) and Arber Xhekaj (21) have also played quite well on the blue line and suddenly, the position that had the most question marks before Game 1 of this season, looks like a strength for the next decade.
When a young team is being carried by young players, there is really nothing to complain about. Would it help down the road to have Connor Bedard? Absolutely, but if the team were so bad that they finish last again, Bedard alone would not be turning the franchise around.
Of course, it is far too early to be thinking about the NHL Draft anyway. What those fans out there who are worried about whether the Canadiens get the first overall pick seem to be forgetting is there are still 64 games to play this season. Even though they have played as well as humanly possible, they are in 18th place in the NHL standings.
With such a young defence, it is likely that this team will hit a wall at some point. They just don't have the depth to keep playing this well once a few injuries occur and they are likely to move out a couple of decent veterans before the trade deadline.
By the time the dust settles on the season, the Canadiens are almost surely going to be drafting in the top ten of a very, very deep draft and might even end up in the top five yet.
Count me, for one, as a fan who is happy we aren't certain of a top three draft pick after a month of the regular season. It has been fun watching Caufield, Suzuki and Dach take their game to an elite level, and see Guhle, Harris, Xhekaj and Kovacevic turn the blue line into an organizational strength.
Winning is infectious in the National Hockey League, and it is great that these young players are getting a little taste of success without the doom and gloom of a "lost season" hanging over them by Halloween. They get to feel like they are in the thick of things, and this will only make them more hungry to be in playoff races in the coming years.
I still think there will be a few long months ahead for the Canadiens this season, but I am thankful we have had some great, entertaining hockey to watch and the team isn't left for dead at the quarter pole like they were a year ago.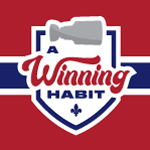 Want your voice heard? Join the A Winning Habit team!
Write for us!