Montreal Canadiens: Watch Lane Hutson Provide All The Offence For Boston University
The Montreal Canadiens prospect cupboard looks pretty full already for a team that is really just entering a rebuilding phase.
They were in the Stanley Cup Final in 2021 and didn't really commit to rebuilding the roster until halfway through last season. The team fired general manager Marc Bergevin and brought in a new regime that is clearly looking to the future.
Kent Hughes and Jeff Gorton are leading that new management team and they have only run one NHL Draft with the Canadiens so far. But my, oh my, what a draft it is shaping up to be. Of course, we are talking about teenagers, but they many of them seem to be performing better than expected this season.
Canadiens Propspect Lane Hutson Looks Like NHL Draft Steal
The Canadiens picked Juraj Slafkovsky first overall and though the jury will remain out and sceptical for years, he is playing well in his first handful of NHL games. He has already improved greatly from Game 1 to Game 6 of his NHL career and could be an impact player for years to come.
Filip Mesar was taken late in the first round and Owen Beck was the first player off the board in the second round. Both had tremendous NHL camps and are lighting up the OHL in the first month of the season.
But Lane Hutson, taken near the end of the second round, with the 62nd overall pick, looks to be the real gem of the draft class. He is undersized but overly skilled and is fitting in just fine at the NCAA level in his freshman season.
Listed at 5'9″ and only 148 pounds, Hutson was passed over many times in the NHL Draft simply because of his size. His otherworldly skill certainly didn't hold him back, and it was on full display in a big win for Boston University last night.
Hutson, an 18 year old freshman defenceman went into last night's game with one goal and six points in six games.
His team was held scoreless until the dying minutes of the contest, but Hutson was able to provide enough offence for his team to win all on his own.
It started with incredible puck skills along the blue line late in the third period. With almost no space to keep the puck onside, Hutson somehow dangled around a defender and held onto the puck. He then cut to the middle of the ice, faked out another opposing player before firing a wrist shot into the back of the net to tie the game with the extra attacker on the ice.
Sorry we didn't tweet the first Lane goal but here it is now for your enjoyment. pic.twitter.com/0K4NMIBZcz

— BU Men's Hockey (@TerrierHockey) October 30, 2022
He showed off his incredible skating and offensive skills with the game winning goal in overtime as well. Hutson picked off an errant pass by an opponent and immediately jumped into attack mode.
He created a 2-on-1 situation and read it perfectly when the defender laid down to block the passing lane. This created a wide open lane for Hutson to cut to the net and he did, deking to the backhand before sliding the puck into the net for the game winning goal.
LANE. IS. HIM. pic.twitter.com/m6sHMopvgV

— BU Men's Hockey (@TerrierHockey) October 30, 2022
The first year college defenceman now has three goals and eight points in seven college games. It is way too early to start making comparisons, but it is quite rare that freshman defencemen put up point per game numbers at the college level.
Cale Makar "only" had 21 points in 34 games for Massachusetts in his freshman season. Quinn Hughes had "just" 29 points in 37 contests with Michigan in his first collegiate season.
Obvioulsy, they put up those numbers over a full season, and Hutson is just seven games into his season, with plenty of more hockey to play. But if he can even keep close to this rate of production this season, the Canadiens will have found a verified stud in the second round.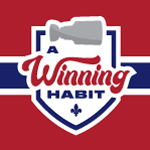 Want your voice heard? Join the A Winning Habit team!
Write for us!