Montreal Canadiens Young Defensemen Shining At Camp
Montreal Canadiens training camp has been very fast paced and competitive thus far. Having finished dead last in the standings last season, they find themselves in a situation where changes are to be expected. After all, it is said that the definition of insanity is doing the same thing over and over again and expecting different results, right?
While there are battles everywhere on the team, there isn't a lot of room on the roster with the exception of one position: defense. The Canadiens have four spots reserved to veterans on defense and one of them is currently injured. Joel Edmundson (back) is currently sidelined, but the alternate captain certainly has his spot guaranteed on the team. The others are newly acquired Mike Matheson, as well as veterans David Savard and Chris Wideman.
As teams usually carry seven defensemen, it leaves three slots to be filled. The competition at camp is fierce for those three spots with a mix of young veterans with some professional experience, and young promising prospects hoping to make the jump straight to the NHL.
Canadiens blue line depth chart
Here's what the overall picture looks like on the depth chart today:
Joel Edmundson
Mike Matheson
David Savard
Chris Wideman
Justin Barron
Jordan Harris
Kaiden Guhle
Corey Schueneman
Arber Xhekaj
Mattias Norlinder
Madison Bowey
Otto Leskinen
William Trudeau
Gianni Fairbrother
Breakdown
There are 10 defensemen fighting for the three available spots on the Canadiens' blue line. Justin Barron is arguably the player with the best odds of making the team, being right-handed, something the Habs are lacking at that position.
There are other young guns, recruited by previous management. Kaiden Guhle, Jordan Harris, Arber Xhekaj and Mattias Norlinder all have a legitimate shot at making the big club. And all have been impressive thus far at camp.
William Trudeau would have to vastly outplay the above-mentioned players as he is still of junior age and sending him back to the QMJHL is a good option for the Canadiens. Gianni Fairbrother is a long shot at this point, but he's the type of player who does everything well on the ice, while not excelling in one particular facet of the game.
You then have three young veterans added to the mix. Recently turned 27 year-old Corey Schueneman did very well under Martin St-Louis last year when called upon. Otto Leskinen (25) has vastly improved after returning to Europe last season and decided to give the NHL another shot this year. Both have looked good at camp so far.
Unfortunately for him, 27 year-old Madison Bowey has been injured and has yet to participate, but he is a young right-handed veteran.
Other options
If all fails, or if he doesn't want to start the season with three – or four if Edmundson can't play – young men at the blue line, there is a possibility that General Manager Kent Hughes could seek help from outside the organization to address that need.
Hughes has the assets to complete a trade if he sees someone available that he likes. The Canadiens will also have first kick at the can when it comes to players placed on waivers, up until November 1st. So the Canadiens' GM will be keeping a close eye on that too.
No matter what, you should see a rotation on defense as the Canadiens are focusing on player development. At such a young age, prospects must play in order to continue developing so the organization has every intention to take full advantage of the fact that most of them don't have to go through waivers. Several of them should see time between Montreal and Laval with the Rocket.
Isn't it exciting to talk hockey again, with the boys back on the ice? Looking at the pace so far at camp, and considering how many players will want to redeem themselves from a horrible season a year ago, this team could – and will – surprise many. The future is bright.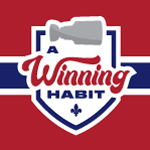 Want your voice heard? Join the A Winning Habit team!
Write for us!