Montreal Canadiens: Nils Lundkvist Remains Sensible Target
The Montreal Canadiens rookies are already in action and the rest of the NHL team is gearing up for training camp. That will begin next week, but is the Canadiens busy offseason of moves complete?
We often see teams take care of a little business just as teams are getting together for camp. The Canadiens recently traded Max Pacioretty on the eve of training camp and he was their captain at the time, so anything could happen yet.
One hole the Habs would like to fill before the season begins is on the blue line. General manager Kent Hughes admitted before the Jeff Petry trade that if he were to be dealt it would open a chasm on right defence that needed to be fixed.
Well, Petry was traded and Mike Matheson was brought to town in the deal. Matheson is an NHL defender but he does play the left side, leaving just David Savard and Chris Wideman on the right side.
One right defenceman who remains on the trade market is New York Rangers blue liner Nils Lundkvist. The 2018 first round pick has recently let his team know that he does not want to play there anymore, and he will not be attending their training camp.
Update on Nils Lundkvist: I checked in with his agent, Claude Lemieux, who said that the 22-year-old defenseman will *not* be reporting for the #NYR's main camp next week. They've requested a trade and seem to plan on sitting tight until that happens.

— Vince Z. Mercogliano (@vzmercogliano) September 16, 2022
Lundkvist stated earlier this summer that he wants a bigger role on an NHL team, and doesn't see one ever opening up with Adam Fox and Jacob Trouba, as well as Braden Schneider locked in on the right side of the Rangers blue line.
The Canadiens however, have plenty of room on the right side, and the 22 year old Swedish defender would be given every opportunity to open the season on the Habs top four. He only had four points in 25 NHL games last season, but is a great skater and offensive defender who wasn't given a big role on that Rangers blue line, even when he did get in the lineup.
With the realization he won't be coming to camp, perhaps the Rangers will just want to move on from Lunkvist instead of dealing with this situation all season. If so, the Canadiens make a good fit for what he wants, and Jeff Gorton, the head of the Habs management group, was the Rangers general manager when they drafted Lundkvist.
The Rangers would likely want a similar aged prospect who plays centre or left defence. The Canadiens could likely add Lundkvist if they offered up Mattias Norlinder, Jan Mysak or even Jesse Ylonen.
If Lundkvist reaches his potential, he will soon be a top four right defender that can help run a power play. The Canadiens could definitely use one of those, and should be calling the Rangers to see if they can take this problem off their hands before training camp begins.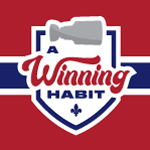 Want your voice heard? Join the A Winning Habit team!
Write for us!