Montreal Canadiens: Lane Hutson, Blake Biondi Cut From USA World Junior Team
The Montreal Canadiens had a handful of hopefuls for the summer World Junior tournament that saw their hopes dashed yesterday. A trio of players trying out for the USA team learned they will not be heading to Edmonton later this month to represent their country.
Luke Tuch was invited to the evaluation camp late, so he was a big of a longshot anyway. He will not be among the 25 players that represent the United States at the postponed World Junior championship. The 2020 second round pick will now go back to preparing for his third college season.
The Baldwinsville, New York native is a powerful, physical left winger who plays for Boston University. He scored six goals and ten points in 26 games last season, but uses his 6'2″ and over 200 pound frame to win battles and create space for linemates.
Blake Biondi was also in attendance at the American summer camp. He was a 4th round pick of the Habs in 2020 and just had a solid second college season. The Hermantown, Minnesota native plays for Minnesota-Duluth, one of the best hockey programs in the United States, and scored 28 points in 42 games last season.
However, it wasn't enough to convince the coaching staff he should play at the World Juniors.
Lane Hutson was the Habs prospect garnering the most attention. The second round pick from the 2022 NHL Draft is two years younger than most of the players that made the team, but his passing, skill, speed and vision had to have him on the short list.
Hutson scored 63 points in 60 games for the United Starts Development Program last season, which is unbelievable production for a defenceman. He is heading to Boston University for the upcoming season and is likely to represent his country at the next two World Juniors, but he won't be there this month.
Oddly, Ty Smilanic, a Habs prospect acquired from the Florida Panthers in the Ben Chiarot trade, was not on the American team. Not only that, but he wasn't even at the summer evaluation camp. I say this is odd because he was on the team in December, and when the event got postponed to a new date, he wasn't even invited to tryout.
The United States announced their list on invites on June 16th, and had their evaluation camp in late July. Between those two dates, the Canadiens held their development camp with Smilanic in attendance, so injury isn't the reason he won't play for his country this summer.
Strange. We still don't know who will play for Team Canada, but Jan Mysak, Oliver Kapanen and Petteri Nurmi will be Habs prospects suiting up at the summer World Juniors that begin on August 9th and run until August 20th.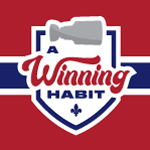 Want your voice heard? Join the A Winning Habit team!
Write for us!