Montreal Canadiens: Sami Niku To Play In Finland Next Season
The Montreal Canadiens added some last minute depth before the 2021-22 season when Sami Niku was signed. It was late September when he agreed to join the Habs on a one-year deal with a $750,000 cap hit.
Niku had plenty of promise, having previously won the AHL Defenceman of the Year Award as a 21 year old. He is an offensive left defenceman, and the Habs desperately needed someone who could move the puck from the back end.
The Finnish defender played 13 games with the Canadiens, scoring six points, before being placed on waivers and sent to the Laval Rocket. It was somewhat surprising that he was sent down, with the Canadiens playing poorly and needing any help they could find when it occurred in January.
The 25 year old played well for the Rocket, scoring 13 points in 36 games, and putting up 11 points in 15 playoff games while playing a reliable two-way top four role. He was impressive in his AHL stint, but it appears that his time in that league is over.
Niku looks to have signed with a team in Finland for next season. The former Jets and Canadiens defender is set to join the JYP organization in Liiga on a one-year contract.
Se on totta – Sami Niku palaa kotiin! 🌪🏒

Viisi edellistä kautta Pohjois-Amerikassa pelannut Niku palaa JYPiin yksivuotisella sopimuksella.
Sami Nikun kummiyrityksenä kaudella 2022-2023 toimii Finse.

Lue lisää 👉🏻 https://t.co/qufysqzcrJ#JYPliiga #meollaanJYP #Liiga pic.twitter.com/mowY9Z0JX7

— JYP Jyväskylä (@JYPJyvaskyla) July 29, 2022
The Finnish team confirmed the news with that video above of Niku watching traffic fly by from an overpass. Maybe it is some sort of metaphor about how he defends his team's blue line?
I kid. Niku was a pretty solid depth piece and I am a bit surprised to see him heading back overseas and not catching on with an NHL organization on a two-way contract. He played a big role in the Laval Rocket run to the Calder Cup semifinals, but the Canadiens organization is ready to let the younger players step into those big roles on the AHL team.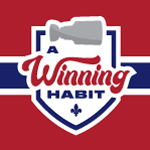 Want your voice heard? Join the A Winning Habit team!
Write for us!