Montreal Canadiens Not Afraid To Have Inexperienced Coaching Staff
The Montreal Canadiens over the years could have been criticized for not being very creative when it came to hiring their coaching staff. There were a lot of retreads and veterans who had failed elsewhere before arriving in Montreal.
Back in 1997, the Canadiens went with a young, inexperienced Alain Vigneault behind the bench. It really wasn't his fault that the team struggled as he saw all of his star players, like Mark Recchi and Vincent Damphousse were shipped out shortly after he arrived.
Vigneault was an up-and-comer who had been an assistant with the Ottawa Senators for a few years and had plenty of experience as a head coach in the QMJHL. But he was unproven at the NHL level as a head coach, was just 36 years old and only lasted three seasons with the Habs. He went on to have a successful career as an NHL head coach after leaving Montreal.
After he left, the Canadiens have hired Michel Therrien, Claude Julien, Bob Gainey, Guy Carbonneau, Jacques Martin, Michel Therrien (again), Claude Julien (again) and then Dominique Ducharme to be full time head coaches. Therrien and Julien were fairly young during their first tenures with the Habs, but for the past 15 years, the Canadiens have tried experienced head coaches.
The same can not be said about the team's current bench. Head Coach Martin St. Louis was brought in during last season and had zero experience behind an NHL bench when he arrived in Montreal in February. With the Habs most recent hire of Stephane Robidas as an assistant, it isn't just St. Louis that lacks experience on an NHL bench.
Robidas was supposed to be an assistant coach at the QMJHL level in 2022-23, and has lots of experience working with the Toronto Maple Leafs as a Director of Player Personnel. But, his only coaching experience is at the Under-18 level, and I don't even mean on a national level, just a midget team in Quebec.
Robidas now joins Alex Burrows as an assistant on the team. Burrows just finished his first full season behind an NHL bench, after being promoted to the Habs job in February of 2021.
The third assistant is Trevor Letowski, who coached in the OHL for a decade, but was only brought to the NHL level last summer. So, he has exactly one year of NHL experience.
That means Burrows, and his 120 games of experience behind an NHL bench is the elder statesman of the Canadiens coaching staff.
That's not necessarily a bad thing. In fact, after seeing the same recycled coaches work their way through the NHL getting fired from one team after another, why wouldn't a team look to do things differently?
If you have the choice between hiring Mike Yeo to coach his 43rd different NHL team or someone new, it probably makes sense to take the road less traveled.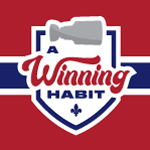 Want your voice heard? Join the A Winning Habit team!
Write for us!