Montreal Canadiens: The Habs Are Poised To Make Big Free Agent Splash In 2024
The Montreal Canadiens entered this offseason pretty much up against the salary cap and with a team that wasn't particularly interesting for free agents to join anyway. Montreal has never been the most preferred destination for NHL free agents, but this summer it has been especially quiet.
That is going to change, but we will have to be pretty patient. There are a number of reasons to expect this rebuild to take two more years, but for the Canadiens to be serious players in the offseason of 2024.
First of all, the roster just needs time to turn over. There are too many veterans making too much money that can't be traded because no one else wants them. The Habs are stuck with their cap hits and therefore can't bring in anyone else even if they wanted.
However, Jonathan Drouin, Evgenii Dadonov, Paul Byron and Jake Allen are all entering the final year of their contracts. It is unlikely any of them are extended, so when they all leave, that will open up a total of $16.775 million.
The following season is the final year of Mike Hoffman and Joel Edmundon's contracts which will clear out another $8 million.
Of course, other players need to be acquired to fill those roster holes, and certain younger players like Cole Caufield need enormous raises, but we are talking about nearly $25 million in cap space just walking out the door in the next two seasons. And with all due respect to the players earning all that money, but they won't be that difficult to replace.
Not only will the Canadiens naturally be adding cap space by allowing veterans to leave, but the cap itself is projected to go up. In fact, it is quite possible the cap takes an enormous leap ahead of the 2024-25 season.
The reason the cap has not been increasing for the past few seasons, and will only go up $1 million next season, is because the players are in debt to the owners. The two sides have a 50/50 split of revenue but when the pandemic hit, it was the owners who took that loss, and not the players.
So, the players have been giving back a larger portion of their pay than usual to make up the difference. They are projected to finish those payments by the end of the 2023-24 season, which would then tie the cap back to 50% of revenue per season in 2024-25. That will be significantly higher than $82.5 million.
#NHL says the Players' $1 billion debt to owners is expected to be paid off in three seasons, including this one, at which point the salary cap can be re-linked the HRR and rise dramatically.

In other words, it's possible for a significant cap increase in 2024-25 season.

— Frank Seravalli (@frank_seravalli) December 10, 2021
So, the Habs will have $25 million walk out the door, and could also see the cap rise another $10 million. Now, it is going to do that for everyone, so that isn't some advantage for the Habs, but if they choose to be cautious next summer, they could have blank cheques waiting for top free agents who hit the market in 2024.
And who is potentially hitting the open market that offseason? Auston Matthews but he's heading straight to Arizona, right?
Sebastian Aho could also be a UFA that offseason and he has already signed with the Habs once.
The most likely player that could join the Canadiens at that time is Pierre-Luc Dubois whose agent already said publicly that he would like to play in Montreal.
Veterans like Tyler Toffoli, Jonathan Marchessault, David Perron, Anthony Mantha and Anthony Beauviller are all players that could have interesting in joining Montreal.
There aren't as many defensemen possibly available, other than Devon Toews and Noah Hanifin who could be part of the free agent frenzy.
And for once, the Montreal Canadiens could be a real part of that frenzy as well. It certainly didn't happen this season, and they are likely to be cautious next summer as well. Once that cap goes up and the Habs cap space really opens up, the team is poised to make a big splash in the summer of 2024 and should be a much improved team in the 2024-25 season.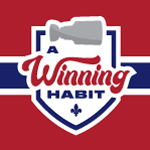 Want your voice heard? Join the A Winning Habit team!
Write for us!