Montreal Canadiens: Oliver Bjorkstrand Trade Shows Shedding Cap Space Nearly Impossible
The Montreal Canadiens are not in an enviable position when it comes to the NHL's salary cap. Many teams are capped out at the moment, and the 32nd overall Habs are among them.
While the Habs could squeeze in under the salary cap without trading anyone next season, it would be really tight. They would have to use a 22-man roster instead of the maximum allowed 23-man roster, and would likely be shipping a veteran like Paul Byron up and down on off days to save a few salary cap dollars.
That's not ideal, especially when a player like Juraj Slafkovsky could possibly earn $2.85 million in bonuses next season. If those bonuses can't be squeezed into the current year's cap configuration, they get carried forward and applied against the following year's cap, reducing how much the team could spend in 2023-24.
The Canadiens still don't know if Carey Price will play next season or not, but if he does, they would ideally like to shed a contract that takes up a few million dollars. This would at least give them the cap space to carry 23 players on the roster.
But, recent trades have shown that moving cap space is nearly impossible this summer. The most recent example was Oliver Bjorkstrand being moved from the Columbus Blue Jackets to the Seattle Kraken.
Bjorkstrand is a right winger who scored 28 goals and 57 points in 80 games for the Blue Jackets last season. He is 27 years old and has nearly 400 games of NHL experience under his belt. He is signed for four more years at $5.4 million but that is a perfectly reasonable contract for a player of his ability and age.
He was traded for 3rd and 4th round draft picks. Essentially, he was given away for cap space. He got traded for slightly more than Travis Hamonic and Travis Dermott who were not even regulars in the lineup. He got traded for slightly more than Nic Deslauriers and Ryan Reaves who are strong and fight sometimes and that's about it.
Cap space has become such a commodity that a legitimate, skilled, top six winger who could score 30 goals next season, is signed for less than $5.5 million for four more seasons and is only 27 years old is worth about the same as a fourth line winger who can fight but doesn't have a big cap hit.
It is crazy. It also means the Canadiens have no chance of trading a player like Mike Hoffman, Joel Armia or even Jonathan Drouin. They just take up too much cap space and no one wants to take that on right now.
Armia is signed for three more years and Hoffman has two left on his contract. At this point, the Canadiens are stuck with them no matter how badly they want to move on from the veteran wingers.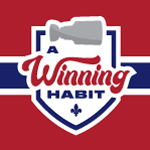 Want your voice heard? Join the A Winning Habit team!
Write for us!