Montreal Canadiens Hosting NHL Draft Viewing Party On The Big Screen
The Montreal Canadiens 2021-22 season was a long and gruelling one for the fans of the team. Us hardcore fans would watch all 82 games of the regular season no matter the circumstances.
However, that was a little more difficult than usual last season. We all knew the team was a long shot to make the playoffs after five games and by the end of a month of regular season play there was no chance the Canadiens were heading to the 2022 playoffs.
From there on, you kind of cheer for the team obviously, but you also know the reality of the situation and start peeking at NHL Draft guides and mock drafts a lot earlier than other seasons. With a special player like Shane Wright available in the 2022 NHL Draft, you start sort of dreaming of adding that first overall pick long before Christmas.
Well, now you can celebrate that first overall pick with fellow hardcore Habs fans. The Canadiens are hosting the NHL Draft inside the Bell Centre but there a lot more than 22,000 Canadiens fans who want to watch the draft. So, for those who couldn't get tickets to be inside the building, the team is also hosting a viewing party just outside.
Outside of the Bell Centre, on Canadiens Plaze, on July 7th from 4:00 PM to 10:00 PM, there will be a viewing party on an enormous screen. Habs fans are invited to hang out and watch the draft with thousands of other Canadiens fans.
Youppi! is going to be there to hang out and meet fans. Steve Bégin and Gilbert Delorme will be signing autographs, there will be a DJ blasting tunes and there will be food and beverage carts on site as well. Most importantly, the event is completely free.
After things being shut down for so long, an outdoors event filled with Habs fans cheering on the first overall pick sounds amazing.
If you want to watch the NHL Draft with loads of other hardcore Habs fans, this is the event to attend. The NHL Draft will be played live on the big screen as the Canadiens announce the first overall selection.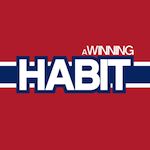 Want your voice heard? Join the A Winning Habit team!
Write for us!