Montreal Canadiens: Alex Galchenyuk Looms Large Over Early Pick
The Montreal Canadiens officially have the best chance of getting the first overall pick in this year's NHL entry draft, held in Montreal no less. However, thanks to the Edmonton Oilers sucking too badly for too long and changed the draft rules so that nothing is guaranteed.
Even then, the first overall pick is not a lock to bring a quality NHL player. Need I mention Nail Yakupov? The Russian first overall pick played only 350 NHL games and scored just 62 goals.
The Montreal Canadiens have had their troubles drafting recently. Nikita Scherbak, Michael McCarron, Noah Juulsen and Nathan Beaulieu come to mind as recent first round busts. Jesperi Kotkaniemi might join those ranks, but its too early to tell, and he was taken as a restricted free agent by those bunch of jerks in Carolina.
But those decisions were made by the old guard of GM Marc Bergevin and Trevor Timmins, both of whom were fired this year. Newly at the helm is Jeff Gorton and whomever is hired to be the new General Manager (Roberto Luongo? Mathieu Darche? Danny Briere?), and they will likely have the luxury of a lottery pick this year.
The last lottery pick Montreal had before Kotkaniemi was also a third overall pick by the name of Alex Galchenyuk.
As of today, Galchenyuk plays for the Arizona Coyotes, his second stint on the team, and has 3 assists in 14 games. Not something you want from a third overall pick who should still be in his prime.
Galchenyuk had one great season with Montreal, in 2015-16 with 30 goals. The team around him was pretty bad, as Carey Price was injured most of the season and the team missed the playoffs despite a 9-0-0 start.
Galchenyuk's time in Montreal was marred by controversy and a lack of consistency. Was he a winger or a centre? Many people pegged him as a natural winger, but Galchenyuk was drafted at a time when the Habs were super weak at the centre position.
Then there was the whole thing with his father, and a question of his maturity and consistency issues plagued his time in Montreal. Luckily, Bergevin did turn Galchenyuk into Domi, who had a fantastic year and was traded for current Habs goalscoring leader Josh Anderson.
Galchenyuk has since played in Arizona, Ottawa, technically became a member of the Hurricanes without playing a game, Pittsburgh, Minnesota and Toronto. A journeyman not being able to stick around and find a role on any team is not what you want in a third overall pick, that's for sure.
Right now, the Canadiens have a crisis of leadership. There's no other way to put the way that this season has gone. Three of the team's biggest leaders: Shea Weber, Carey Price and Corey Perry have not been with the team at all due to leaving in free agency and injuries. Dominic Ducharme has been hapless, and the team has such cratered to the very bottom of the standings. They need a sure thing, someone that can be a leader to come and not a mercurial scorer.
Despite having made the Stanley Cup Final last year, this team is far from competing on a regular basis, and a full rebuild needs to happen. They already have two fantastic building blocks in Nick Suzuki and Cole Caufield, who are young enough to make it through a rebuild, and if Kaiden Guhle keeps on developing the way that he has, that is a solid piece on the blueline.
Jeff Gorton needs to know what he needs, and be sure about what he has. Lets not put round pegs into square holes, or wingers into centre slots anymore okay? We tried that with Galchenyuk, we tried it with Drouin. It hasn't worked, it won't work, let's just not okay?
And don't overthink it. Kotkaniemi was taken higher than expected because he is a centre, and Montreal really needed a centre. Brady Tkachuk was still available, and wouldn't he be a nice shot of character in this slump of a season right now. Shane Wright should still be the top of most people's draft lists despite a slow start in the OHL this year. There is no strengths and weaknesses to draft right now. Take the best possible player. Full stop.
And Gorton should be a big help with that. After all, he was the one that found Brad Marchand in the third round. And as much as I dislike Marchand as a player, you can't hate that pick at all from Boston's perspective.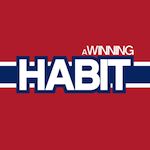 Want your voice heard? Join the A Winning Habit team!
Write for us!