Montreal Canadiens Need to be Calling on Samuel Girard
The Montreal Canadiens have lacked a key component of an NHL lineup for many years.
It used to be that the team could not find capable top six centres, or anyone nearly resembling a first line centre. That area has been cleaned up with the arrival of Nick Suzuki.
The most glaring weakness on this roster now is a top four puck moving defenceman on the left side.
That is very specific, but they have Jeff Petry on the right side who has played a strong two-way game since he was acquired from the Edmonton Oilers. They also have had some depth options that could carry the puck like Victor Mete, Chris Wideman and Erik Gustafsson but none of them were even capable top four defenders.
If everyone were healthy right now, the Canadiens would have Petry, Ben Chiarot, Joel Edmundson and David Savard in the top four. That leaves Petry to carry the offence from the blue line all by himself.
So, the team needs to be keeping an eye out for an offensive defenceman who is also capable enough defensively to handle over 20 minutes per night. That player does not come available very frequently in the NHL, as these players tend to sign long term contracts and stick in one place for a long time.
However, it sounds like the Colorado Avalanche just have too many good defencemen and are looking to move one.
According to Mike Chamber of the Denver Post, the Avalanche were involved in Jack Eichel trade talks with Samuel Girard being a piece involved. He also claimed he still believes Girard will be dealt and that the team will be looking for a forward in any trade.
It makes sense that the Avalanche would want forwards. They lost Brandon Saad to free agency and Joonas Donskoi to the Seattle Kraken in the expansion draft. Saad had 15 goals in 44 games last season and Donskoi put up 31 points in 51 games. The Avs didn't really replace these wingers in free agency and could use another top six winger to add to the lineup.
One thing the Canadiens have in abundance is wingers. But they would have to give up a really good one to acquire Girard.
Girard is a 23 year old left shot defenceman who is from Quebec. He scored 32 points in 48 games last season after having 34 points in 78 games the year previous. He has also scored 15 points in 25 postseason games over the past two years. He is also signed for five more years after this season with an annual cap hit of $5 million.
He has been playing a top four role on one of the best teams in the NHL over the past two seasons. With the emergence of Bowen Byram on the team's blue line, they appear ready to move Girard to add scoring help. This would still leave them with a top four of Byram, Cale Makar, Devon Toews and Erik Johnson. They also have Ryan Murray and Jack Johnson for depth.
The only way the Avalanche move Girard is if they get a really good winger in return. They aren't going to move a young, cost controlled, puck moving defenceman for Joel Armia.
It would probably cost Tyler Toffoli, but that is something that the Canadiens should strongly consider. Replacing a winger like Toffoli isn't simple, but it is a lot easier than finding a 23 year old top four defenceman that has the potential to score 50 points while playing big minutes every night.
Girard is everything the Canadiens need right now and the team should be all in if he is actually available.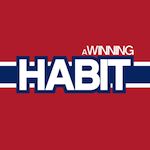 Want your voice heard? Join the A Winning Habit team!
Write for us!