Montreal Canadiens: Cole Caufield Injury Update
Montreal Canadiens right winger Cole Caufield made a big impression in a short stint last season.
He was brought up to the Canadiens lineup after a Hobey Baker Award winning NCAA season with the Wisconsin Badgers. Though he joined the Habs late, he was quickly moved up to the top line and stayed there for most of the run to the Stanley Cup Final.
It left him in a great spot heading into what will be his first full NHL season. Caufield was skating on that same top line with Tyler Toffoli and Nick Suzuki in camp, but now it appears he will be sidelined for a little while.
Caufield was supposed to play in the Red vs White Scrimmage game at the Bell Centre on Sunday. He was taking part in warmups when he lightly wristed a shot into the empty net and turned towards the corner. He fell and slowly slid into the boards, though he was moving so slow he was almost back on his feet before softly nudging the boards.
Caufield then left the ice and did not participate in Sunday's scrimmage at all.
Head coach Dominique Ducharme met with the media on Monday and said that Caufield is listed as day-to-day and will be out for about a week with a minor upper body injury. He was quick to point out it is nothing major and that they are just being extra cautious since it is early in training camp.
That is good news, I suppose. Better news would have been that he was fine and skating again already, but when a player just slips and falls and seems to be injured without being touched, it can sometimes be worse than getting hit by a lumbering defender or a heavy slapshot.
In other injury news, Brendan Gallagher hit the ice for the first time in training camp, though he was not injured and was absent for family reasons.
Joel Edmundson was still away from the main practice, but is scheduled to join his teammates in full duties either today or tomorrow.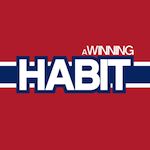 Want your voice heard? Join the A Winning Habit team!
Write for us!