Montreal Canadiens: Jesperi Kotkaniemi Never Would Have Lived Up To Contract With Habs
Montreal Canadiens general manager Marc Bergevin made a wise decision earlier this week when he chose not to match the offer sheet that was signed by Jesperi Kotkaniemi.
Kotkaniemi was a restricted free agent this offseason and agreed to a one-year contract with the Carolina Hurricanes worth $6.1 million. The Habs had a week to either match the contract and keep Kotkaniemi at that enormous cap hit, or let him go to the Hurricanes and receive a first round pick and a third round pick in return.
Bergevin chose the picks over the bloated contract for a young, unproven centre.
Kotkaniemi has played three years in the National Hockey League after being drafted third overall in 2018. His best season was his first one, when he scored 11 goals and 34 points in 79 games. Since that decent rookie season, Kotkaniemi has just 11 goals and 28 points in 92 games over the past two seasons.
The young Finnish centre does have nine goals in 29 career postseason games which is great, but with just three postseason assists to his credit, his 12 points in 29 games doesn't seem so impressive.
Kotkaniemi is a big centre but he struggled to keep up with the physical nature of the NHL. He was often pushed off pucks easily and had a hard time winning battles with bigger defenders, especially in his first two seasons. He did seem to be getting stronger each year, but after scoring five goals and 20 points in 56 games last season, he appeared further from being a top six centre than when he finished his rookie season at 18 years old.
It is never a good thing when a young player takes a backward step in his development. Not every player's trajectory is linear, but when a 20 year old is worse than he was offensively at 18, it raises some red flags.
Apparently the Carolina Hurricanes are not so worried about those red flags. However, they did already announce they plan on moving Kotkaniemi to left wing next season, a position he almost never played as a Montreal Canadien.
The former Habs will be the third highest paid player on the Hurricanes next season, but they have decided to move him from his natural position before training camp even began. It appears unlikely he will be able to live up to the expectations of a $6.1 million player.
That would be far more true had the Canadiens matched the contract and Kotkaniemi had to play in front of fans at the Bell Centre. There were plenty of fans already running thin on patience with Kotkaniemi's development before his entry-level contract expired.
Returning to Montreal would have been a no-win situation for Kotkaniemi. Even if he had a career year by scoring 15 goals and 45 points, fans would be booing him for not living up to his enormous cap number.
Bergevin had only one choice as soon as the offer sheet was signed and that was to take the picks and move on.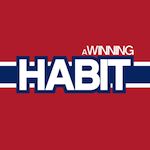 Want your voice heard? Join the A Winning Habit team!
Write for us!