Montreal Canadiens: Time To Try Tomas Tatar
Montreal Canadiens winning streak was pushed to four games for the first time all season when they downed the Winnipeg Jets two nights ago.
After storming back from a 3-1 deficit against the Toronto Maple Leafs, the Habs were able to secure a Game 1 victory over the Jets by a score of 5-3.
The win, and the team's longest streak since a pair of goals from each of Joel Armia and Tomas Tatar on January 18, 2019 gave the Canadiens their fourth consecutive victory, was overshadowed by an ugly hit at the end of the game on Jake Evans. With Evans injured, the Habs have to replace the player who led their forwards in ice time in Game 1 and scored the clinching goal into the empty net.
Evans has been playing on a line with Phillip Danault and Brendan Gallagher. The trio was tasked with shutting down Auston Matthews and Mitch Marner in the latter stages of the first round and did a terrific job. The 25 year old Evans isn't the Canadiens best offensive threat, but his skating and smarts allowed him to play a big role on the roster lately.
So, with him out, how will the Habs mix up their lines for Game 2?
The easiest thing to do is simply slide Tomas Tatar back into the lineup right where Evans was skating. Tatar, Danault and Gallagher have been one of the league's best trios at defending the opposition and they have put up solid offensive numbers on their own.
As a line this season, Tatar, Danault and Gallagher scored 18 goals at even strength in just over 250 minutes of hockey. That isn't quite elite status, but the fact they surrendered just three goals in that time certainly is elite. That means, if these three were able to play 80 minutes of hockey together, they would allow a single goal in that time.
Other lines have definitely put up more offence this season. Connor McDavid playing with Leon Draisaitl and Jesse Puljujarvi is regarded as possibly the best line in hockey. They earned that notion by scoring 17 goals in just 178 minutes together, which is markedly higher than the Danault line. However, that McDavid trio also allowed 12 in that time, scoring 58.6% of the goals when they are on the ice.
No other line played as much and allowed as little as Tatar, Danault and Gallagher. Allowing just three even strength goals in over 250 minutes is an accomplishment that deserves far more recognition. The only line that came close to matching this level of shutdown ability is the Boston Bruins trio of Taylor Hall, David Krejci and Craig Smith. They allowed just one goal against, but played only 180 minutes together.
Considering they found that chemistry immediately after Hall was acquired at the trade deadline is impressive. The fact they play behind perhaps the best two-way line in hockey in Brad Marchand, Patrice Bergeron and David Pastrnak means the Krejci line didn't have to do as much heavy lifting as the Habs line.
Speaking of the Bruins top line, they played 435 minutes together, which isn't quite twice as much as Danault's line. The "perfection line" as they are known scored 33 goals in that time, which is a slightly higher goals per minute than Danault's line. However, Bergeron's line allowed 17 even strength goals in that time.
That means, when the Bruins best line is one the ice, there is a 66% chance that Boston scores the next goal. When the Danault, Tatar and Gallagher line is on, there is a 85.7% chance the Habs score the next goal.
What is 20% better than perfection?
It's what you get when Tatar plays with Danault and Gallagher. Yes, Tatar struggled down the stretch to produce any offence, but Gallagher was injured at that time. He is not now, and with Mark Scheifele out for the next four games with his suspension, the Jets offence will be a little more condensed.
Whatever line looks the most dangerous should get a healthy dose of Tatar, Danault and Gallagher over the next four games. The Habs may not score a ton of goals in that matchup, but it is quite clear by now that the Jets won't do any scoring in that time.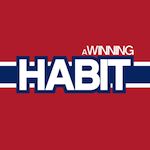 Want your voice heard? Join the A Winning Habit team!
Write for us!
The Habs have a choice to make about how they shuffle their lines without Evans. However, there shouldn't be any shuffling at all, just a swap of Tatar into his regular spot. Even if he doesn't score, he provides a ton of value to the Montreal Canadiens in that role.
Every statistic used in this article is from the amazing website moneypuck.com.