Montreal Canadiens: Three Former Habs Win Gagarin Cup
The Montreal Canadiens have had some pretty memorable Russian players in their lineup over the years.
Alexei Kovalev is the most skilled player to don a Habs jersey in decades, and he wowed fans at the Bell Centre with his skill and ability to stickhandle through a maze of defenders on his way to the opposing goal.
He also wowed us with how little he could care on any given night, but that was just Kovalev.
Andrei Markov is one of the best players to play for the Canadiens in recent memory as well. His two-way ability from the blue line was as important as it was underrated. He made multi-millionaires out of Sheldon Souray and Mark Streit by feeding them the puck on the power play and he took a young P.K. Subban under his wing and taught him the finer points of being dangerous offensively without sacrificing defence.
There were also a handful of not so memorable performances from Russians in Montreal like Sergei Samsonov and Nikita Nesterov.
The only Russian on the current roster is Alexander Romanov. He came to Montreal this year after winning the Gagarin Cup with CSKA Moscow in 2019 and having a chance to defend his title in 2020 wiped out by covid.
Though Romanov didn't get to defend his title last year, three former Canadiens players won the Gagarin Cup yesterday.
Avangard Omsk won the KHL Championship and they did it with the help of three names that are familiar to Habs fans: Ilya Kovalchuk, Alexei Emelin and Jiri Sekac.
Both captains Ilya Kovalchuk and Alexei Emelin are first to raise the Gagarin Cup as their teammates join them in celebration! pic.twitter.com/ipLdNfMKl1

— Aivis Kalniņš (@aiviskalnins) April 28, 2021
Kovalchuk and Emelin are actually both captains of the team. Kovalchuk played 16 games with Omsk this season, scoring five goals and 17 points. He had nine points in 24 playoff games. Sekac had 21 points in 34 games but played only six postseason games and had two goals.
Emelin, known for his defensive play and hard hits, added 21 points in 59 games, and scored three points in 12 postseason games. He missed the rest of the postseason after going into liver failure. He had a terrible reaction to a painkiller taken after a game and needed to be rushed to hospital. Emelin has since recovered, as you can see in the video above, but he did not return to the ice.
He is expected to be back with the team next season.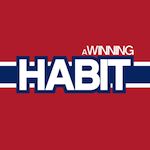 Want your voice heard? Join the A Winning Habit team!
Write for us!
Sekac's time with the Habs was short, as was Kovalchuk's but he had a few memorable moments in a flat season last year. Emelin had a longer stint with the Habs and was a pain in the side for opponents every night. Congratulations to all three of them on winning a KHL Championship.