Montreal Canadiens Weekly Recap: Rest or Rust?
Welcome to the Canadiens weekly recap: your one-stop shop for all the scores, stats and storylines from the past week in Canadiens hockey.
Last Week in Canadiens Hockey
Last week was a strange week for the Canadiens. Joel Armia and Jesperi Kotkaniemi were placed on the COVID list, and the Scotia North Division re-scheduled their first games due to the pandemic.
The Canadian government cut down the length of quarantine time for incoming players from the US to Canada to 7 days, which allowed the Canadiens to pick up Eric Staal for a third and fifth round pick.
Marc Bergevin also signed Cole Caufield to his first professional contract and Caufield was sent to Laval. The hope is that the Hobey Baker hopeful will play his first NHL games sometime this season.
The question this week is if the rest will help the Habs in their push for the playoffs, or if the extended break will leave them rusty. Only time will tell.
Game 1:
Montreal Canadiens 4 – Edmonton Oilers 0
Artturi Lehkonen: 1 goal, 1 assist. Brendan Gallagher: 1 goal, 1 assist. Jesperi Kotkaniemi: 1 goal. Tomas Tatar: 1 goal. Paul Byron: 2 assists. Phillip Danault: 2 assists. Shea Weber: 1 assist. Joel Edmundson: 1 assist.
Well, it didn't take much time to figure that one out, did it? The Canadiens dominated right off the hop, with Kotkaniemi scoring after 18 seconds of hockey and 5 minutes of a coaches review.
It was funny two-fold, because Paul Byron's head covered the puck at the absolute perfect moment to obscure the possible offside call. This came in the game where the Bell 5g experience, where you can see the game from all angles.
Obviously the cameras that catch the game from every angle are not the most hi-def cameras, but it does beg the question whether the NHL should invest in more cameras around the blue-lines.
Maybe a camera in the roof pointing straight down, or more cameras across the blue-line could cut down on the absurd length of some coach reviews.
Dominique Ducharme may have struck gold when he had to change the bottom six lines due to Joel Armia being out with COVID and Tyler Toffoli still being injured.
The line of Paul Byron – Jesperi Kotkaniemi – Artturi Lehkonen were fantastic last game, combining for 5 points on the night.
Maybe the saying is right, pressure does make diamonds, and the Canadiens may have found them in Paul Byron and Arturri Lehkonen (at least for one game). With Armia, Toffoli and newly acquired Eric Staal all almost guaranteed spots, that leaves precious few for the guys on the fringes.
Carey Price got maybe on of the easiest shutouts of his career, as the Canadiens held the Oilers to a mere 17 shots on goal, and none by Mcdavid.
This game really shows what this Canadiens team can do when they are on. The Oilers, second place in the division, were completely dominated by the Habs without one of their top-pairing defenceman and their leading goal-scorer.
Game 2:
Montreal Canadiens 4 – Ottawa Senators 1
Phillip Danault: 1 goal, 1 assist. Brendan Gallagher: 1 goal, 1 assist. Paul Byron: 1 goal. Corey Perry: 1 goal. Tomas Tatar: 2 assists. Jake Evans: 2 assists. Artturi Lehkonen: 1 assist. VIctor Mete: 1 assist.
How about one great game followed by another? It seems like a long time since the Canadiens have been able to string together wins, but they have done it.
It started a bit rough in the first, but Paul Byron's shortie less than a minute in the second period turned the tide and Montreal never looked back.
For the second game in a row, after a half-season long lull, the line of Brendan Gallagher – Phillip Danault – Tomas Tatar have returned to their regular, league dominating selves, combining for 11 points in the last two games.
A big part of that is the resurgence of Phillip Danault. After turning down a big extension in the off season, Danault saw his offensive output hit rock bottom, scoring his first goal almost halfway through the season.
Jake Allen finally got some goal support in this game. In 12 games, Allen has a 5-3-4 record. I went through all the scores, the Canadiens have scored 2.5 goals per game when Allen has been in net. That has also been tempered by some of Montreal's torrid start to the season.
Jake Evans had two assists, as he fights for his roster spot with Staal on the way. He has seen his spot as the fourth line centre threatened. But as previously said, pressure makes coal into diamonds, and the Canadiens have found some temporary diamonds in the rough.
Game 3:
Ottawa Senators 6 – Montreal Canadiens 3
Josh Anderson: 2 goals. Tyler Toffoli: 1 goal. Nick Suzuki: 2 assists. Shea Weber: 2 assists. Jesperi Kotkaniemi: 1 assist. Victor Mete: 1 assist.
Alas, all good things must come to an end, and this three game winning streak and this week has definitely come to a disappointing end.
Terrific Tyler Toffoli returned and scored a PP goal halfway through the first in his first game back from injury. That was a positive.
The rest, not so much. The anaemic Ottawa offence score a power play goal, short handed goal and an empty net goal. As they have so often, the Canadiens failed to take care of a vastly inferior Senators squad.
Next Week:
Montreal has a solid grasp on the fourth and final playoff spot. They are 6 points behind Winnipeg and Edmonton, but have 4 games in hand.
On the other side, they are 6 points ahead of Calgary and Vancouver, with a similar 3 games in hand on Vancouver, and 4 on Calgary.
Next week (barring more COVID re-scheduling, as the Canucks have been ravaged by the virus), the Habs play 4 games in a busy week.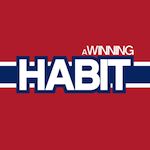 Want your voice heard? Join the A Winning Habit team!
Write for us!
Monday is Edmonton, Wednesday is at Toronto, Thursday is Winnipeg and Saturday is another game against the Jets. Thursday will be a tough game, as the Canadiens will travel to Toronto for a game, and then have to return to Montreal for a game the night after.