Montreal Canadiens: If Available, Mattias Ekholm Should Be Habs Top Trade Target
Montreal Canadiens general manager Marc Bergevin has not traded away a first round draft pick during his tenure with the Habs.
You can debate his record in the first round of the draft all you want, but it is clear he doesn't like to move that pick. This season might prove to be the outlier for Bergevin.
The biggest reason that he might move the pick is because of the opportunity the Canadiens have to go on a deep run. The Canadian Division is proving to be a worse group than predicted and it seems like no one, aside from the Toronto Maple Leafs, can go on a lengthy winning streak.
The Habs sit second in the division right now and have a very good chance of making the playoffs, and could be starting the postseason with home ice advantage if they continue to play well. The Maple Leafs will be difficult to catch, but the Habs are lightyears ahead of the Ottawa Senators and Vancouver Canucks, and have looked better than the Edmonton Oilers, Calgary Flames and Winnipeg Jets thus far as well.
The trade deadline is still close to two months away, but with any acquisition needing to quarantine for two weeks before suiting up for the Canadiens, deals could be made earlier than usual this season.
If the Habs decide to pounce and land a big name player, they should have their sights set on Mattias Ekholm.
The Nashville Predators left defenceman has been one of the most underpaid players in the league for years. He is a defensive force who has put up decent offensive numbers throughout his career as well.
The 6'4″ and 230 pound defender has scored 169 points in 393 games over the past five seasons which is a 35 point pace over an 82 game season. The 30 year old is always used against the most difficult competition and has never played on the deepest or most offensive minded teams in hockey while playing for the Predators.
Ekholm has another year on his contract after this one with a cap hit of $3.75 million. That's a bargain for a shutdown defender who can score close to half of a point per game. The Habs finally have lots of options on left defence, but none that could play top pairing minutes with ease like Ekholm has been doing for years.
Ekholm would immediately step onto a top pairing with Shea Weber, and push Ben Chiarot down the lineup. If Joel Edmundson were to stay with Jeff Petry, Chiarot would suddenly be on a terrific third pairing with a rotation of Alexander Romanov, Victor Mete and Brett Kulak.
That's eight NHL caliber defensemen, but with the Canadiens set to play their final 41 games in just 78 days, a few extra reliable blue liners would be ideal.
The Predators aren't certain to move Ekholm, but they are struggling this season and are rumoured to be considering a bit of a rebuild.
If that is the case, they would be looking for a similar return to what the Los Angeles Kings got for trading Jake Muzzin. Muzzin is also a solid, defensive defenceman who can put up a few points, though not quite at the same level as Ekholm. Muzzin also had a year and a half left on his contract when he was traded for a first round pick, Carl Grundstrom and Sean Durzi.
Grundstrom was a recent section round pick at the time who looked to be on the cusp of becoming an NHL regular, though he didn't have star potential. Durzi was a prospect a little deeper down the depth chart who was playing his overage Junior season in Ontario.
A similar package to that right now for the Habs would be a first round pick in 2021, Jesse Ylonen and Gianni Fairbrother for Ekholm. That's a lot to give up, but it would be worth it for a player like Ekholm.
If the Canadiens are going to go deep in the postseason, they are going to have to beat a team like the Winnipeg Jets or Calgary Flames as well as the Toronto Maple Leafs. When facing teams with top six forwards like Mark Scheifele, Blake Wheeler, Kyle Connor, Nik Ehlers, Pierre Luc Dubois and Paul Stastny or Auston Matthews, Mitch Marner, John Tavares, William Nylander and Zach Hyman, you are going to need a deep blue line to shut them down.
The current Canadiens blue line is deep, but would reach an elite level with Ekholm playing next to his former teammate, Shea Weber.
This would also give the Canadiens some insurance heading into next season. They will already have a difficult decision on who to shelter in the upcoming expansion draft this offseason. Weber and Petry will be kept for sure, but the Habs will have to decide who of Chiarot, Mete and Edmundson to protect as well.
They are likely to lose one of the three, and if they acquire Ekholm and protect him along with Weber and Petry, they would then still have two of Edmundson, Chiarot and Mete as well as Romanov to build around for the 2021-22 season.
The Habs blue line is already crowded, but with such a wildly condensed schedule for the next three months before the playoffs, adding another NHL defender would allow the team to rotate almost everyone through the lineup to keep them fresh. That's what they are doing in goal with Carey Price and Jake Allen, why not do the same on the blue line?
The Canadiens could elect to use their best trade chips to acquire a forward, but they are already deep up front as well and will likely be adding Cole Caufield to the lineup around the trade deadline anyway.
Adding Ekholm brings in another player at an already deep position on left defence, but he would unquestionably be the team's best player at that position. Having Ekholm and Weber on the ice against Auston Matthews line and then Edmundson and Petry on the ice against John Tavares line and then Chiarot, Romanov, Mete or Kulak on the third pairing would give the Canadiens incredible depth on the blue line.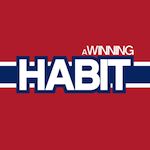 Want your voice heard? Join the A Winning Habit team!
Write for us!
Bergevin loves to add blue liners to the roster. He might have the opportunity to add someone to the top pairing. If the Predators decide to put Ekholm on the market, Bergevin needs to pounce.