Canadiens: Joel Edmundson Brings Size, Stability to Canadiens Blueline
It's been a solid start to the 2020-21 season. Both for the Montreal Canadiens, and Joel Edmundson.
In the newly formed Canadian division, Montreal has got off to a solid 2-0-1 start after posting back-to-back wins against the Edmonton Oilers on Saturday and Tuesday. While they weren't able to secure the win in their season opener against the Toronto Maple Leafs last Wednesday, the Habs still managed to secure a point in a 5-4 OT loss. An uncharacteristically busy off-season for Habs GM Marc Bergevin seems to be paying off, with early returns looking great so far, especially from the team's multiple new additions.
Along with solid offensive performances from Josh Anderson and Alexander Romanov, another fresh face has been bringing a stable presence to the team's backend, in particular their second pairing. Joel Edmundson was a player that seemed to get lost in the midst of blockbuster acquisitions like Anderson, with the pending UFA having been traded to the Canadiens from the Carolina Hurricanes on September 12th, 2020, in exchange for a fifth-round pick in the 2020 NHL entry draft.
Four days later, Edmundson signed a four-year contract worth 14$ million, serving as a solid addition to a Canadiens defense that had been lacking in much depth. In a 2019-20 season that saw the Habs make up for a mediocre regular season with a solid playoff performance, numerous players saw ice-time on the Canadiens backend, as the team struggled to find truly reliable options to compliment the team's top two d-men in Jeff Petry and Shea Weber. While longtime Winnipeg Jets defenseman Ben Chiarot overcame a rough start to the season, becoming a fine compliment to Weber on the top pairing by seasons' end, others didn't fare as well.
Rookie Cale Fleury was a surprising addition after making Montreal's roster out of training camp but was sent back down to the Laval Rocket after 41 games and 1 goal. Victor Mete brought his usual quickness to the table, netting his long-awaited first career goal in the process, but it became evident he wasn't the top pairing defenseman Habs fans envisioned him to be after his impressive 2017-18 rookie season.
While Chiarot continues to flank the first pairing alongside Weber, Montreal may have finally found a solid option for Petry in Edmundson. A former second round pick of the St. Louis Blues in 2011, Edmundson posted solid if unimpressive numbers in his three seasons in the WHL, increasing his point totals each season, posting a high of 25 over 63 games in 2012-13.
After spending two seasons with the AHL's Chicago Wolves, Edmundson became a full-time part of the Blues roster in 2015-16, being a part of their Stanley Cup Championship run in 2018-19. Playing on a one-year, $3.1 million deal, Edmundson was traded to the Hurricanes (along with first round pick Dominik Bokk) in exchange for star defenseman Justin Faulk, recording 20 points over 68 games. In his first three games with the Canadiens, Edmundson has brought similar qualities that contributed to his Stanley Cup win in St. Louis, that of solid defensive play, and reliability on the backend.
New defenseman Joel Edmundson has made quite the impression in his first three games on the Canadiens blueline.
Canadiens fans will remember Marco Scandella's brief run with the team, when the longtime Minnesota Wild defender was dealt to the Habs while they were still in the midst of a playoff push. A left-handed shot like Edmundson, Scandella brought the Canadiens some much needed stability, posting 3 points over 20 games along with a +1 rating. Scandella's presence was one that would've come in handy in the playoffs, as the Habs put up an unexpected fight, defeating the Pittsburgh Penguins in the qualifying round before falling to the Philadelphia Flyers in six games in the first round. Should the Habs make another run at the playoffs this season, Edmundson could be a key reason why.
At 6'04 and 227 pounds, Edmundson is a tremendous presence on the blueline and is a fine compliment to one of the league's better offensive defenseman in Petry. While his skating leaves something to be desired, being burned on a one on one by Oilers star forward Connor McDavid on Saturday, his physicality and calm presence make up for it, being able to clear play in front of the net and deliver solid physical play when needed. With a +5 rating over his first three games, he can also be counted in his own end, allowing Petry to move up in the play if needed.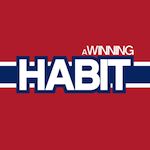 Want your voice heard? Join the A Winning Habit team!
Write for us!
With the Canadiens set to play their first series against the Vancouver Canucks on Thursday, the team should look to continue their hot hand, facing former Washington Capitals starter Braden Holtby, who should replace a struggling Thatcher Demko. It's been a terrific start to this season for Montreal, and it'll be interesting to see how things play out in this tightly contested Canadian division. Should they keep up their recent streak of success, however, I believe that Joel Edmundson, could be a big reason why.