Montreal Canadiens Game Times For Schedule Released
Montreal Canadiens game times have finally been released.
Montreal Canadiens start times for their games this season have finally been released.
The actual schedule for the Habs unique 2021 season was announced earlier, but no times were attached to the games. We knew when the road trips and game days would take place, but no other details about the games.
With the first games scheduled to begin in just nine days, the league finally told us when we can expect the games to start.
The Canadiens are playing in an All-Canadian division with the Toronto Maple Leafs, Ottawa Senators, Winnipeg Jets, Edmonton Oilers, Calgary Flames and Vancouver Canucks. All 56 of their games this season will take place against teams in their division, due to travel restrictions between Canada and the United States.
I don't want to see anyone complaining about the habs schedule and the time of the games!!! HOCKEY IS BACK!!!! We have a good team this year!!! Let's gooooo!!! #habs
***Canadiens schedule!!! All time Eastern!!!! pic.twitter.com/YHickGecPP

— Florence Normand (@Florence_1553) January 4, 2021
Almost every home game will begin at 7:00 PM EST, with the only exceptions being 7:30 PM starts on Wednesday, February 10th against the Toronto Maple Leafs, Wednesday March 24th against the Edmonton Oilers and an 8:00 PM EST start against the Maple Leafs on Wednesday, April 28th.
I don't recall the Canadiens ever starting a home game at 8:00 PM EST. They will also have a road game on Wednesday March 10th in Vancouver that begins at 8:00 PM PST which is 11:00 PM puck drop in Montreal. That's a late on and again, I don't recall an NHL game every starting at 11:00 PM EST.
For some reason, the NHL wants their Wednesday night games to be later than usual and a tad later than any other day of the week. It must have something to do with Sportsnet's Wednesday Night Hockey, but why would they want their national game to start later than usual?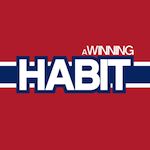 Want your voice heard? Join the A Winning Habit team!
Write for us!
That's the only real oddity on the schedule. Most of the games are at 7:00 PM locally, and that one afternoon game on Sup Bowl Sunday.