Montreal Canadiens: Sean Farrell Off to Fantastic Start to USHL Season
Montreal Canadiens prospect Sean Farrell is off to a great start.
The Montreal Canadiens have made a lot of draft picks in the past three years. To be exact, they have welcomed 29 new players to their organization since the NHL Draft in Dallas, Texas just over two years ago in June, 2018.
The first round picks get most of the attention and rightfully so. Cole Caufield, Jesperi Kotkaniemi and Kaiden Guhle are three of the best young players in the pipeline and deserve to be recognized for their talent and what impact they could have on this organization in the near future.
Players that have performed above initial expectations, like Alexander Romanov and Mattias Norlinder have also garnered a lot of attention as well. But with so many prospects being added in such a short time, some of the best ones can be overlooked a little bit.
For example: Sean Farell. He was drafted by the Canadiens with the third of their fourth round picks in the 2020 NHL Draft. The Hopkinton, Massachusetts native was ranked much higher than the 124th overall pick, but that is where the Habs were able to select him. The only reason he could have possibly slipped as far as he did, is because of his size.
He is listed at 5'9″ and 174 pounds, but it is hard to find anything else that can be described as a blemish on his resume at the moment.
The 19 year old left winger was the first overall pick in the 2019 USHL Draft. He didn't disappoint, showing up for the Chicago Steel last season and leading the league in assists. He finished the year with 15 goals and 41 assists for 56 points in 44 games.
He was committed to attending Harvard this year and playing college hockey. However, the Ivy Leagues decided not to play games this season because of Covid-19, so instead of being a NCAA freshman, he is back with the Steel in Chicago.
Farrell has picked up right where he left off last season. He has great skills with the puck, exceptional vision and is a terrific playmaker. He almost averaged an assist per game throughout last season and is sitting at six helpers in six games so far this season, to go with his five goals on the young season.
His 11 points in six games have him in third place in league scoring at the moment. The USHL is a step down from the level of hockey he expected to play this season, but he did just turn 19 a few weeks ago so it's not unheard of for a player his age to still be playing Junior hockey.
Farrell was the best setup man in the league last season and turned a few heads with yet another brilliant setup last night.
Cannot confirm nor deny that Sean Farrell has eyes in the back of his head

@ccclfe | #WeAreSteel https://t.co/qB6NotkocL pic.twitter.com/vYX7SJPtly

— Chicago Steel (@ChicagoSteel) November 29, 2020
He gets the puck as he is moving away from the opposing net, but somehow knows exactly where his teammates are on the ice. He spins and fires a perfect cross-ice pass without even looking in the direction of him linemate and sets him up for a one-timer goal.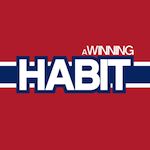 Want your voice heard? Join the A Winning Habit team!
Write for us!
Ideally, Farrell would be playing college hockey this season and attending classes at Harvard. However, much like a lot of things in the world these days, the start of his college career had to be postponed. Clearly he is making the most of his time with the Chicago Steel and if he continues to perform at this level, we could see him join fellow Habs prospect Cole Caufield at the upcoming World Juniors.