Montreal Canadiens Top Prospects Countdown: #18 Joel Teasdale
Montreal Canadiens general manager has compiled a long list of prospects. We are counting down the top 30.
Montreal Canadiens general manager Marc Bergevin has been building through the draft for the past three years. It has resulted in the Habs having one of the deepest group of prospects in the league.
So, we have been counting down the Canadiens Top 30 prospects.
This started on November 1 with the 30th spot going to Jack Gorniak. The 29th spot went to Jacob LeGuerrier, the 28th place was taken by Otto Leskinen, 27th went to Rafael Harvey-Pinard, 26th was Jack Smith, 25th was Jacob Olofsson, 24th was Lukas Vejdemo, the 23rd spot went to Alexander Gordin, Blake Biondi came in at 22nd, Rhett Pitlick was 21st, Joni Ikonen began the top 20 and Brett Stapley was number 19.
We continue our countdown today with a prospect that had a wide range of rankings among out writers. Joel Teasdale was ranked as high as 14th by Teddy Elliott and as low as 25th by me. He was 17th on Sebastian High's list and 20th on Scott Cowan's. There are a few reasons for the lack of agreement on where Teasdale lands on the Habs prospect charts.
First of all, Teasdale was undrafted. He scored 18 goals and 47 points in 60 games for the Blainville-Boisbriand Armada of the QMJHL in his draft eligible season of 2016-17. However, it wasn't quite enough to get any team to take a flyer on him in the later rounds.
He improved those totals to 32 goals and 65 points in 65 games the following season but still, no NHL team was ready to use a draft pick on him. It was enough, however, to get an invite to the Montreal Canadiens development camp. There, Teasdale impressed with his combination of size, skill and grit and he earned a contract.
The 6'0″ and 205 pound left winger plays the game like a player much bigger than his stature. His physicality and battle along the boards make him a ferocious player to play against and his skill level and skating aren't bad either.
Teasdale exploded offensively after signing with the Canadiens. He returned to the QMJHL and was traded from Blainville to Rouyn Noranda midseason. He picked up 80 points in 66 games that season and was excellent in the postseason. He led the QMJHL playoffs in scoring with 34 points in 20 games, leading the Huskies to a QMJHL title.
Teasdale didn't slow down at the Memorial Cup where he scored four goals and five points in four games, once again leading the Huskies to a title. He was a beast at both ends of the ice at the Canadian Junior hockey championship tournament and was named MVP for his great efforts.
All of those points and accolades at the Junior level might have seen Teasdale land higher on this list. The problem is, he hasn't played a game since hoisting the Memorial Cup in May of 2019.
A knee injury in the offseason as he prepared for the 2019-20 season held him out for the entire year. He would be back in action this season, but the global pandemic has put a stop to the AHL for now and Teasdale will have to wait until February before he gets into game action.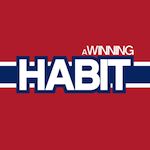 Want your voice heard? Join the A Winning Habit team!
Write for us!
He possesses a high level of skill, physicality and speed that make him an attractive prospect for the Canadiens. The problem is, he hasn't played a game in exactly a year and a half now. That is crucial development time missed for the 21 year old. It doesn't mean he should be written off, but it will make it a little more difficult for him to prove he belongs on the Canadiens roster in the near future.