Montreal Canadiens Would Have More Cap Space If They Didn't Buy Out Karl Alzner
Montreal Canadiens general manager Marc Bergevin has been busy this offseason. Buying out Karl Alzner actually cost them cap space.
The Montreal Canadiens have not often dipped into the NHL free agent market to make a big splash over the years.
Especially since Marc Bergevin was hired as general manager in 2012, most of the big additions made by the Canadiens were via trade. Their free agents were mostly depth players that play third pairing or fourth line minutes or were brought in to be a backup goaltender.
That was not the case in 2017 when Karl Alzner was signed.
That was a summer of change on the Canadiens blue line. Andrei Markov left as a free agent, Nathan Beaulieu and Mikhail Sergachev were traded and Alexei Emelin was selected in the expansion draft. That left a fairly large and deep hole on left defence for the Habs and Alzner was signed to a five-year contract with a $4.625 million cap hit to fill the void.
It uhh, it didn't work out very good. Alzner played every game for a bad Habs team in 2017-18 and was then made a healthy scratch in the opening game of the 2018-19 season. He had the league's leading stretch of games played at the time so it wasn't an easy decision but it was the right one.
Alzner showed during his first season in Montreal that the speed of the NHL game was just too much for him to play regular minutes. He was never an offensive blue liner, but even his ability to keep players from the opposition out of scoring areas had faded.
Bergevin made the decision to buy out the final two years of Alzner's contract earlier this offseason. He played most of the past two years in the minors with the Laval Rocket, so it makes sense from a personnel standpoint.
But the decision actually hurts the Habs from a salary cap perspective this season.
Alzner was set to earn $4.625 million against the cap if he were in the NHL next season. That was not going to happen. The Habs would have saved $1.075 million if they just sent Alzner to the minors. This would have resulted in a cap hit of $3.55 million in 2020-21 for Alzner.
The buy out is a bit complicated because Alzner had signing bonus money owed this season. With that factored in, his cap hit for the 2020-21 season will now be $3.958,333 following his buy out.
It's not a huge difference, but Alzner actually eats up $408,333 more next season after his buy out than he would if he were playing for the Laval Rocket.
The amount of cap space it is costing the Habs is slightly more than half of an NHL player's minimum wage. So, it's not it stopped the Habs from signing Taylor Hall or Mike Hoffman.
Currently, they probably don't have enough cap space to carry a full 23 man roster. But, with the Canadiens looking to contend next season, they will probably be buyers at the trade deadline. Trying to find room for a new addition would be much easier if Alzner was playing in the minors instead of being bought out.
The big risk with keeping Alzner next season would be that he can't be bought out if he is injured. So, if he were to be hurt at the end of the 2020-21 season, the Habs would have to keep him in the organization for the 2021-22 season.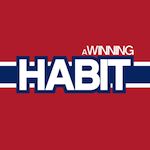 Want your voice heard? Join the A Winning Habit team!
Write for us!
Bergevin decided it was the right decision to cut him loose and maybe give him a chance of finding a new team that will give him and NHL opportunity. It will cost the Canadiens a few bucks next season when their cap situation is tight, but it removes any risk of having Alzner eating up cap space in 2021-22.