Montreal Canadiens: Marc Bergevin Always Signs Veteran Centres, Could it be Brian Boyle Next?
Montreal Canadiens general manager Marc Bergevin likes to have veteran, depth options available. Could Brian Boyle catch his eye?
The Montreal Canadiens have been busy this offseason. They have added top nine forwards Tyler Toffoli and Josh Anderson. They added top four defenceman Joel Edmundson and they acquired backup goaltender Jake Allen to fill a position of need.
These additions make the Habs better, but it also brings them dangerously close to the salary cap. If general manager Marc Bergevin is going to add anyone else, it will have to be for less than a million dollars per year.
One position that Bergevin loves to add depth to is his fourth line centre. He is constantly signing and trading for veteran players that are reliable defensively, good at faceoffs and can play fourth line centre.
His first season in Montreal saw him trade for Jeff Halpern. Then he signed Manny Malhotra, traded for Torrey Mitchell, re-signed Torrey Mitchell, picked up Steve Ott, signed Byron Froese, brought Tomas Plekanec back after trading him, traded for Nate Thompson and re-signed Nate Thompson.
With Thompson traded to the Philadelphia Flyers at the trade deadline and having signed with the Winnipeg Jets, the Habs don't have a veteran option at fourth line centre.
They could just hand the job over to Jake Evans and Ryan Poehling to battle for, or Bergevin could acquire a defensively responsible, big, faceoff winning centre for the job. Based on past history, I think adding a veteran to at least join the battle with Evans and Poehling is the most likely scenario.
If Bergevin does add another veteran down the middle, Brian Boyle would make a lot of sense.
He played 34 games with the Florida Panthers last season and scored six goals and 15 points. He is one of the biggest players in the league at 6'6″ and has been a great faceoff guy and penalty killer for his entire 13 year NHL career.
He played a bit higher in the lineup than usual last season, but that was mostly because of the Florida Panthers lack of options down the middle. Boyle was often playing with either Brett Connolly or Mike Hoffman who are pretty decent goal scoring threats.
Boyle, at 35 years old wouldn't be bringing much offence to the Canadiens, but would bring a wealth of experience, having played 118 playoff games in his lengthy career.
The Canadiens general manager always likes to add a cheap, veteran option down the middle of the ice. After a decent season, Boyle would normally be looking for a bit more money, but with such an uncertain financial landscape at the moment, that might not come to fruition.
There is no question Bergevin loves players like Boyle. He could come in, be a leader, help play some depth minutes and not get into trouble. He would also be able to teach some of the finer points of the defensive side of the game and the faceoff dot to young centres Nick Suzuki, Jesperi Kotkaniemi, Jake Evans and Ryan Poehling.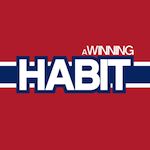 Want your voice heard? Join the A Winning Habit team!
Write for us!
If he is willing to sign a one-year contract with a cap hit smaller than a million dollars, Boyle would be a great fit for the Montreal Canadiens.