Canadiens: Josh Brook an Interesting Piece of the Future
With Montreal's cap space filled, the focus moves onto the future, and I believe Josh Brook is an interesting piece of the Canadiens one.
In general, the 2017 NHL entry draft was a successful one for the Montreal Canadiens.
Following a 2016-17 season that saw the team fall in the first round to the New York Rangers, the Habs went into the next season with optimism as to their future. While things haven't quite worked out as planned since then, the team has gotten progressively better with their drafting, and to a certain extent, prospect development. In the 2017 draft, the team selected USHL prospect Ryan Poehling 25th overall, traded Captain Max Pacioretty the next summer for 13th overall pick Nick Suzuki and star forward Tomas Tatar, and had some success in the second round as well, having two picks.
Along with 58th overall pick Joni Ikonen, who's displayed solid numbers with Kalpa Kuopio of the SM-Liiga, the team selected defenseman Josh Brook 56th overall. A product of Roblin, Massachusetts, Brook spent his entire major junior career with the WHL's Moose Jaw Warriors. In recent years, the team has built a reputation for consistency, ever since former NHL forward Tim Hunter took the coaching reigns in 2013-14. In his six years behind the bench, the team has made the playoffs four consecutive times, before enduring a dreadful 14-44-4 record this season.
After playing inconsistent minutes during his first three seasons with the team, Brook put up 16 goals and 59 assists over 59 games in his final season, increasing NHL scouts' interests in his abilities as an offensive defenseman. While the Warriors fell in the first round that year, the Canadiens saw enough in Brook to use one of their second-round picks on him. Following a seven-game cup of coffee that season with the Habs AHL affiliate, the Laval Rocket, Brook joined the team full time this year.
During Habs training camp, Brook was in the running for a roster spot, showcasing good vision and puck control. However, after a shaky performance in the preseason, the team went with Cale Fleury instead, leaving Brook to try and find a top line role in Laval. In 60 games this year, Brook recorded 4 goals and 9 assists in what was, in many ways, an up and down season. Head coach Joel Bouchard's team first system is one that has worked wonders for the Rocket, with the team in the fight for a playoff spot before the AHL suspended play due to the COVID-19 pandemic.
However, certain players like Brook struggled with it at times, leading to them serving more of a depth role. Early on, Brook was a healthy scratch at times and seventh defenseman for the most part, even playing forward at times on Laval's fourth line. On defense, Brook was mainly paired with Karl Alzner, playing a similarly conservative role for a for a Rocket team that tended to have a more shutdown approach. However, that's not to say Brook didn't demonstrate aspects of his offensive potential, with the occasional nice rush and ability to draw defenders towards him, before feeding a pass to an open forward.
As top players like Riley Barber and Phil Varone were fizzled out over time, the Rocket came to rely more on their rookies and depth players, as forwards like Alexandre Alain and Yannick Veilleux stepped into, and adjusted quite well to top-six roles. By the time the Rocket found themselves in a playoff hunt, Brook was a regular in Laval's top four, seeing powerplay time as well in the place of Captain Xavier Ouellet. Overall, it was an, as stated, up and down season for Brook, but his improvements were noticeable, and showcased his defensive abilities in a better light.
When the NHL's return to play plan was announced, Brook was invited to the Canadiens camp. While his performance was once again somewhat shaky, him being invited is a good sign that the Habs liked what they saw from him towards the end of the year. In the end, Montreal went with Ouellet as their last defenseman, leaving players like Brook to look to next year and beyond.
Overall, I was impressed with the way Brook played this season, and how he adapted to Bouchard's system and changed his role and style of play accordingly. Overall, the Rocket's offense was their main weakness, having only two players with 30 points or more. As well, Bouchard's approach was more suited to depth players than top line AHLers, which is why players like Barber and Varone were eventually shipped out. However, the Rocket were still able to compete without that, and Brook proved to be a big part of it.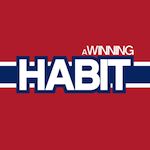 Want your voice heard? Join the A Winning Habit team!
Write for us!
Should the AHL season resume next year, look for Brook to take on a bigger role for the Rocket, and hopefully come into his own as the offensive defenseman the Canadiens envisioned when they drafted him. He showed immense promise in junior, and similarly at times, has showcased it in the AHL. I think he's a player who fits perfectly into Bouchard's system, and has gained his trust in the same way as Jake Evans and Alex Belzile. In the end, it was a solid season for Brook, showing that this second round pick, could be another part of a solid, 2017 draft.