Montreal Canadiens: Does It Still Make Sense To Re-Sign Brendan Gallagher?
Montreal Canadiens winger Brendan Gallagher has been a huge part of the team. Is he about to enter his final season?
The Montreal Canadiens have had a busy offseason reshaping the team's roster. General Manager Marc Bergevin has been active and has improved the team over the course of the offseason.
He brought in Jake Allen to play behind Carey Price. He traded for and signed Joel Edmundson to add some depth to the defence. He traded for Josh Anderson and signed Tyler Toffoli to bolster the offence.
The team is certainly trying to become a contender that can make some noise in the 2021 postseason. Beyond that, the team could be making drastic changes once again.
The team's entire first line of Brendan Gallagher, Phillip Danault and Tomas Tatar are entering the final year of their contracts. It is not likely that all three walk away as free agents, but it will also be difficult for the Canadiens to find the cap room to re-sign all three of them. So, who leaves and who stays?
For a long time, it seemed like a slam dunk that Gallagher would be re-signed. Danault makes sense to keep but it depends how much he expects to earn in the future. If he wants to be paid like a first line centre it wouldn't make sense to re-sign him. If he wants a little less to play his two-way game as the team's second or third line centre, that would be great.
Tatar was the team's top scorer last season but he seems like the most likely to be leaving Montreal in a year (or sooner).
But that does that still make sense?
The Canadiens recent roster changes has made them stronger in goal for a year, and deeper on left defence for the foreseeable future. It also makes the Habs far better on right wing.
Josh Anderson was acquired for Max Domi and a third round pick. Bergevin quickly signed him to a seven-year contract with a $5.5 million cap hit. Then, Bergevin signed Tyler Toffoli to a four-year deal with a $4.5 million cap hit. Anderson and Toffoli are both right shots that have always played right wing in their NHL careers.
Also, the Habs top prospect, Cole Caufield, is a right shooting right winger who is likely to sign his entry-level contract following the 2020-21 college season. Joel Armia is a free agent and is likely to leave as a free agent.
But if Gallagher is re-signed, that gives the Canadiens Gallagher, Anderson, Toffoli and Caufield at right wing. Which one of those is a fourth line player?
None of them. So, which one won't be in Montreal for the 2021-22 season?
With limited cap space, and Anderson and Toffoli signed long-term, it might actually make sense to let Gallagher go and re-sign Danault and Tatar. The Habs are thinner at centre and left wing than they are on the right side, and don't have a lot of prospects ready to step into the lineup on the left side.
After scoring at a 30 goal pace for the past three seasons, it might cost as much as $7 million per season on a long-term deal to extend Gallagher. He will be 29 years old and want to be signed until he is in his mid-thirties. Those contracts get very risky in a hurry.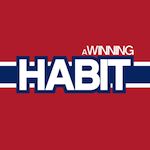 Want your voice heard? Join the A Winning Habit team!
Write for us!
Losing Tatar would open a much bigger hole in the lineup than losing Gallagher. It would have been unthinkable a week ago, but it makes a lot of sense to try and re-sign Tatar while running the risk of losing Gallagher as a free agent.