Montreal Canadiens: Mike Hoffman Would Fill Huge Void For Habs
The Montreal Canadiens have been quiet through two days of free agency. Could they be waiting for Mike Hoffman?
The Montreal Canadiens have been aggressive in making moves this offseason. Before the NHL Draft and free agency even arrived, they had added Jake Allen to take some pressure off starting goaltender Carey Price. Joel Edmundson was brought in to add some veteran depth to the left defence and Josh Anderson was acquired and signed to bring his grit and goal scoring to the lineup.
It seemed like the Habs were just getting started on a busy offseason, but it has been very quiet since.
Usually, the busiest days for trades and acquisitions are the day of the NHL Draft and the first day of free agency.
The Habs were fairly quiet during the whole draft, moving a couple of picks for selections in next years draft, but no players were exchanged for draft picks. Then, when free agency opened, they came to terms with a couple of their own players, Victor Mete, Noah Juulsen, and Xavier Ouellet, but the only newly acquired piece was Brandon Baddock who will play a depth role for the Laval Rocket.
So, what is next for the Canadiens? They still have a little more than $3 million to spend under the salary cap, depending on who starts the year in the minors. They could always add some space by moving out a depth piece for a draft pick or a prospect if they want to spend more than $3 million.
If they are inclined to go shopping, one player that would fill huge needs would be Mike Hoffman.
The Canadiens have great goaltending and a deep, tough, defensive group of blue liners. They are trusting youngsters Nick Suzuki, Jesperi Kotkaniemi and Jake Evans to play roles down the middle with Phillip Danault. What they could use is another goal scoring winger.
Well, all Mike Hoffman does is score goals. In fact, no unrestricted free agent this offseason scored more goals than Hoffman's 29 last season. No one, not even former Hart Trophy winner Taylor Hall, scored more than Hoffman's 59 points either. Had the NHL calendar been able to finish, Hoffman was on pace to score 34 goals and 70 points in 82 games.
70 points is exactly what he scored in 2018-19, while sniping 36 times. Meanwhile, the Habs were held to three goals in their four losses to the Philadelphia Flyers in the postseason. Having a player like Hoffman who can bury a high percentage of his chances is exactly what the Canadiens need.
There were many rumours thrown around about Hoffman during his time in Ottawa. Some very unflattering things that were mostly about Hoffman's girlfriend and Erik Karlsson's wife. This led to Hoffman being cast aside in Ottawa, but did we hear anything bad about him during two years in Florida?
No. So, if a team whose leadership group consists of Jonathan Huberdeau and Aaron Ekblad can keep Hoffman from making headlines for the wrong reason, I'm pretty confident there wouldn't be trouble with Carey Price and Shea Weber keeping things on the straight and narrow.
Bottom line is, Hoffman put up very similar numbers to Nik Ehlers, William Nylander and Andrei Svechnikov last season. He is 30 years old, so he isn't going to trend in the same direction as those younger players forever, but he was top 20 in goals last season and the Habs need goals.
More specifically, the Canadiens could also use someone who can score on the power play. Their 22nd ranked PP was a huge reason they were 24th in the NHL standings. Hoffman sniped 11 times on the man advantage last season, which ranked just outside the top ten league wide.
Imagine Jeff Petry at the top of the power play with the option to feed a right handed Shea Weber or a left handed Mike Hoffman for one-timers? Meanwhile 6'3″ and 27 goal scoring winger Josh Anderson stands in front of the goaltender and Nick Suzuki works his magic down low setting these guys up with creative, slick passing.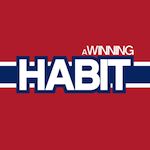 Want your voice heard? Join the A Winning Habit team!
Write for us!
It would be quite the upgrade. Adding a guy who has scored 20 goals every season of his career and has the potential to score 35 next season would be a huge addition for the Canadiens. Let's hope Marc Bergevin is trying to make it happen.