Montreal Canadiens: Could Signing Corey Perry Be Next On Marc Bergevin's To-Do List?
The Montreal Canadiens have been quiet in free agency. The forward market has not budged, but could Corey Perry land in Montreal?
The Montreal Canadiens were fairly quiet yesterday as the free agent frenzy turned mostly into a goaltender musical chairs game and never quite reached frenzy status.
While several goaltenders changed teams and a couple of big contracts were handed out to defencemen like Torey Krug, T.J. Brodie and Chris Tanev, the market for forwards has been pretty slow.
The best forwards available are mostly wingers, but none of them have signed with new teams just yet. Taylor Hall, Evgeni Dadonov, Mike Hoffman, Tyler Toffolli and Mikael Granlund are still waiting to find their new homes.
The Canadiens have been quiet, after an aggressive and loud lead-up to free agency. Could it be because they are waiting for the forwards to start moving? There have been some rumours linking the Habs to Taylor Hall and it's quite possible they are still interested in Mike Hoffman as well since they are the two highest scoring free agents available.
But what if they choose to go elsewhere? Or, what if the bidding just gets too high and the Canadiens, who have about $4 million in cap space, just can't afford them?
My guess is, general manager Marc Bergevin will quickly turn his attention to Corey Perry if he can't haul in a bigger fish.
Perry was once one of the biggest fish in the hockey world. He led the NHL in goals and took home the Hart Trophy as MVP in 2011. At 35 years old, he isn't the same player he was a decade ago, but he showed in the postseason he could still contribute on a team and be part of a deep run.
The Dallas Stars lost in the Stanley Cup Final to the Tampa Bay Lightning this year, and Perry scored five goals and nine points in their lengthy run. He added some much needed depth scoring and played a nasty, physical game that he has always played.
That is the type of player the Bergevin is after this offseason. He traded for Josh Anderson because he is 6'3″ and plays a very physical game. He added Joel Edmundson because he is 6'4″, plays a physical defensive game and has won the Stanley Cup as a member of the St. Louis Blues in 2019.
If Bergevin is looking for contributors who play a tough, physical, grinding style and have an impressive winning resume, he will be exhilarated at the thought of signing Corey Perry. The 6'3″ and 205 pound right winger has won everything. Literally. He won an OHL Championship and Memorial Cup in Junior and was the MVP of both. He won a World Junior gold medal. He's won the Stanley Cup. He helped Canada win Olympic gold in 2010 and 2014. He won the World Cup of Hockey gold in 2016. He won the Maurice Richard and Hart Trophy's in 2011. He won a World Championship making him a member of the fairly exclusive "Triple Gold Club."
Perry has won everything, is big and still plays a nasty, physical game that grinds opponents down. He might fit better on a fourth line now than a first line, but he proved in the postseason he could still be a great depth piece on a team in the playoffs. He may not score 40 goals like he used to, but Perry can still drive to the net and create havoc in front which is something the Habs need to do more often.
Bergevin may try to land someone who plays a little higher in the lineup like Hall or Hoffman. But with so many other teams in the bidding, it might not happen. Perry could step in and play a depth role on a fourth line with Jake Evans and Artturi Lehkonen or Ryan Poehling. He'd provide leadership, grit and experience to a team looking to transition from pretender to contender.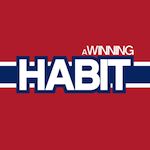 Want your voice heard? Join the A Winning Habit team!
Write for us!
After targeting physical players all offseason, I wouldn't be surprised to see Perry as the newest member of the Montreal Canadiens later on today.