Montreal Canadiens: Kaiden Guhle Brings Solid, 2-Way Game at No. 16
With the 16th overall pick in the 2020 NHL entry draft, the Montreal Canadiens have selected Prince Albert Raiders defenseman Kaiden Guhle.
The Montreal Canadiens pick is in.
After countless rumors regarding a potential trade involving their first-round pick, the Canadiens selected defenseman Kaiden Guhle 16th overall in the 2020 NHL entry draft. Prior to the selection, numerous players were garnering interest as potential candidates, from KHL left wing Rodion Amirov to Chicoutimi Sagueneens center Hendrix Lapierre.
In the end, Montreal chose Guhle, a 6'02 left hander from Sherwood park, Alberta, while Amirov went to the Toronto Maple Leafs with the 15th pick. This marks the third consecutive year the Habs have chosen within the top 20, having selected USHL and University of Wisconsin standout Cole Caufield with the 15th overall pick last year, and current Canadiens center Jesperi Kotkaniemi third overall in 2018.
A product of the WHL's Prince Albert Raiders, Guhle was taken with the first overall pick by the team in the 2017 WHL Bantam draft. In his only year of Under-18 hockey with OHA Edmonton Prep, Guhle put up 39 points in 35 games, earning an eight-game audition with the Raiders that same year. In the two seasons since then, Guhle has established himself a solid two-way defenseman with a lot of defensive upside.
In his first full season with Prince Albert, Guhle played a more limited defensive heavy role, taking a backseat to current undrafted prospects Brayden Pachal, Sergei Sapego, and Max Martin. Posting 17 points over 65 games, the Raiders went on to capture the Ed Chynoweth Cup as WHL champions, before failing to capture the Memorial Cup. Prior to this past WHL seasons cancellation due to the COVID-19 Pandemic, Guhle was playing at a very solid pace, recording 40 points over 64 games on a Prince Albert team now lacking in many topflight defensemen.
As to where he fits in Montreal's system, Guhle will definitely benefit from a few more years of development in junior. At 18 years old, he's just come off his first season seeing a true top pairing role, and adjusted well, posting solid numbers. He should look to improve on these numbers in the coming years, and possibly become a consistent 50 to even 60-point player in junior. Possessing solid size and speed, with a good mix of offensive and defensive abilities, Guhle has the potential to slot anywhere in Montreal's defensive rotation in the future, and should look to work on his two-way game rather than focusing on either his defensive or offensive abilities.
The Canadiens defense has a mix of proven players and solid prospects, though needs some help in the middle and bottom pairings as the team's heads into a future with an aging Shea Weber and Jeff Petry. Ben Chiarot looks to be a solid option for the foreseeable future, and Victor Mete continues to bring a consistent role every night, but, in my opinion, there not true top pairing players and shouldn't be looked upon in that regard. Brett Kulak made up for a so-so regular season with a solid playoff performance, and AHL callups like Xavier Ouellet are just that.
Montreal does have some solid defensemen coming up through the ranks with the Laval Rocket, such as Josh Brook and Cale Fleury, but they're in need of a bit more development and have still yet to showcase their full potential. Personally, I see Guhle as a more defense-oriented version of Petry or to a lesser extent, Noah Juulsen, albeit with higher upside and potential overall. After enduring countless injuries these past few seasons, Juulsen is finally healthy and should look to try and earn a roster spot with the Canadiens, should the season resume.
For the time being, I think it'd be in the Habs best interest to allow Guhle to develop in junior and hone his game into a more complete player. Looking to the future, the Raiders should give Guhle some true top pairing minutes as they look to build on a string of successful seasons. Giving him a solid overager partner to aid his development wouldn't hurt either. While I was personally expecting the Canadiens to select someone like Lapierre, the Gatineau native has dealt with injury troubles over his junior career which caused him to fall to the Washington Capitals at 22nd overall.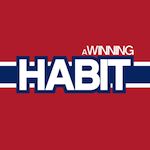 Want your voice heard? Join the A Winning Habit team!
Write for us!
While it's not exactly the pick Habs fans were expecting, Guhle is still a very solid option for Montreal, and gives them another defensive prospect that should look to fill in what is an aging defensive core overall. Despite the rumors and possibility of it being moved, the Canadiens pick is in, and its one that I feel, is a solid one.