Montreal Canadiens: Dale Weise's Second Act is Brought to a Close
The 32-year old Dale Weise will not be returning to the Montreal Canadiens for the 2020-21 season. Weise played 23 games for the Canadiens, tallying 5 points (1 goal, 4 assists) in the process.
Drafted 111th overall by the New York Rangers in the 2008 NHL Entry Draft, the Dale Weise will be looking for a new NHL team as he will not be returning to the Montreal Canadiens.
Per TVA Sports' Renaud Lavoie, Dale Weise will be testing free agency on October 9th as he will not be returning to the Montreal Canadiens for the 2020-21 season. This should come as no surprise as the forward has spent the majority of his time with the organization in the American Hockey League playing for the Montreal Canadiens affiliate, the Laval Rocket. Weise disclosed that he does not plan on going overseas to play for a European team, and that is plan is signing with an NHL club.
The news comes several hours after the Montreal Canadiens announced a four-year contract extension for defenseman Jeff Petry. Dale Weise is coming off a 4-year/$2.35 million contract that he initially signed with the Philadelphia Flyers in the summer of 2016.
Act I
This is not Dale Weise's first outing with the Montreal Canadiens. During the 2013-14 regular season, the Montreal Canadiens traded defenseman Raphael Diaz to the Montreal Canadiens in return for Weise, who would spend the next majority of three seasons with the team. While in Montreal, Weise was a fan favorite, particularly due to his playoff performances in 2014 and 2015.
When the Canadiens were all but eliminated from playoff contention in 2015-16, Dale Weise was a part of the trade that would send him and Tomas Fleischmann to the Chicago Blackhawks for forward Philip Danault and a 2018 second-round draft pick. That pick would eventually be used to select defenseman Alexander Romanov, one of the team's blue-chip prospects.
Act II
Prior to the 2018-19 trade deadline, The Montreal Canadiens re-acquired forward Dale Weise along with defenceman Christian Folin from the Philadelphia Flyers in exchange for David Schlemko and Byron Froese. While Weise was a part of the deal, the Canadiens were looking to acquire Christian Folin, another player who may not return to the team next season. Nonetheless, the forward who earned the name "Dutch Gretzky" was visibly thrilled to be returning to the team he found success with.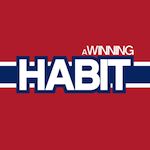 Want your voice heard? Join the A Winning Habit team!
Write for us!
While his production has gone down over the years with frequent AHL stints included, Dale Weise may have to take a pay cut from his previous deal if he is to slot into an NHL team.