Montreal Canadiens: Hendrix Lapierre Offers Boom/Bust Potential at NHL Draft
The Montreal Canadiens enter the NHL Draft with 11 picks. Could they take a risk as early as round one?
The Montreal Canadiens were supposed to host the 2020 NHL Draft at the Bell Centre in June. At that time, they held 14 picks in the event, but obviously everything has been postponed. The draft is now fast approaching and the first round is just 12 days away.
The Canadiens have moved a couple of picks for Jake Allen and another one for Joel Edmundson. They now have 11, which is still quite a haul for one draft class. Enough depth that maybe, the team can afford to take a bit of a risk early on.
If the Habs want to gamble on a high risk, high reward type of player, it would be Hendrix Lapierre.
The Gatineau, Quebec native showed a lot of potential at a young age and was the first overall pick in the 2018 QMJHL Draft. He had a solid rookie season in the QMJHL, scoring 13 goals and 45 points in 47 games.
The smooth, playmaking centre missed some time last season with a concussion, but appeared to bounce back nicely from the injury. He returned to finish the regular season with three goals and five points in his last seven games and then added five points in four playoff games.
If he wasn't already near the top of most lists for the 2020 NHL Draft, Lapierre solidified himself as a top prospect at the 2019 Hlinka Gretzky Cup. The tournament is held in August every year (except 2020 of course) and is basically the World Juniors for draft eligible players. Lapierre was sensational at the tournament, finishing second in scoring with three goals, eight assists and 11 points in just five games. He finished well ahead of Quinton Byfield and Jamie Drysdale who are going to be selected well ahead of Lapierre on draft night.
The reason Lapierre's draft stock fell was because he battled injuries all season. He suffered another concussion in October and returned in November for a handful of games before being injured again. He hasn't played since the end of November.
It was suspected that both of the injuries he suffered this season were concussions as well. However, doctors later found out Lapierre was actually dealing with a spinal injury. After working with phsiotherapists and chiropractors to loosen up some vertebrae, Lapierre's "concussion symptoms" soon vanished.
It would appear Lapierre's injuries this season weren't concussion at all, but were a result of his spinal injury that was not diagnosed the season previous. The fact he played so well at the Hlinka Gretzky with that injury is a testament to how skilled he really is.
Button on Hendrix Lapierre:

"A complete two-way centre who can play in every square inch of the ice and be very productive. Outstanding sense and feel for all situations, with the ability to process quickly."

Projection: Elite No. 1 two-way centre
Comparable: Patrice Bergeron

— NHL Watcher (@NHL_Watcher) June 26, 2020
Lapierre would have been cleared to play at the end of last season if the QMJHL season was not cancelled. He is back healthy at the Chicoutimi Sagueneens training camp now and looks excellent. Not that QMJHL preseason games are the greatest barometer of a player's abilities, but he has seven points in three exhibition games. Training camp rosters were small in the QMJHL this year so it is not like he is playing against player who will end up in Midget AA this season. He is putting up crazy numbers early on against QMJHL competition.
If he can carry that over into the regular season, he is going to quickly make whatever team rolled the dice on him look very intelligent. The only thing missing from Lapierre's game in the past was his health and he has that back now.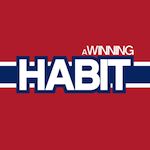 Want your voice heard? Join the A Winning Habit team!
Write for us!
Should the Canadiens decide to take him with the 16th overall pick, they could be getting a player that should have been selected much sooner.